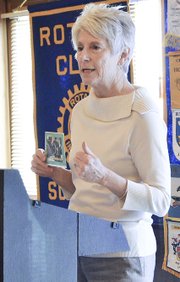 The Sunnyside Ministerial Association is planning its annual CROP Hunger Walk for Saturday, March 22, at 9 a.m.
According to Sunnyside Presbyterian Church Pastor Katie Haney, the annual event is a fundraiser for Church World Service, helping the organization fight hunger worldwide.
She briefly spoke at this past Monday's Sunnyside Noon Rotary Club meeting.
One quarter of the funds raised locally stays in Sunnyside in an effort to fight hunger here, said Haney.
The fundraiser involves local community members gathering at Chief Kamiakin Elementary School walking from the school to 16th Street. The group continues its walk to East Edison Avenue and past the high school to Yakima Valley Highway. The group will travel the walking path to East Lincoln Avenue and back to Chief Kamiakin Elementary School.
There are four ways to support the effort, according to Haney.
She said those interested in participating in the event can obtain sponsorships to support the effort. Community members can encourage others to participate or sponsor a walker. Businesses can also display posters for the event.
For more information or to offer support, call Haney at 837-4314.