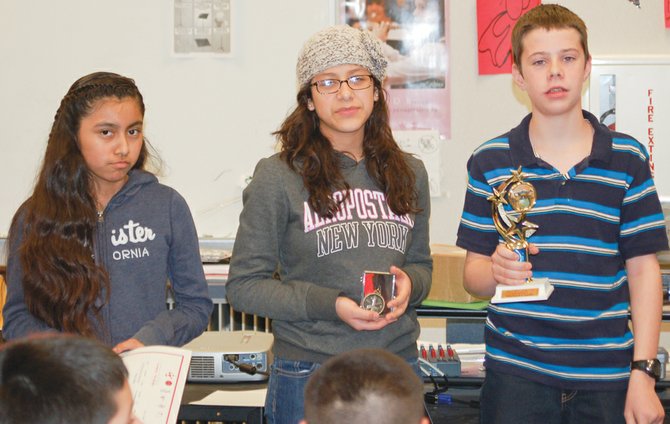 The top science fair projects from Sunnyside middle school students were singled out this past Tuesday night at Harrison Middle School, with the grand prize going to eighth-grader Michael Condie.
Condie's project involved testing different types of metal used for fillings in teeth to see which ones were most resistant to bacteria.
The top three places were separated by only 1.5 percent in competition scoring, with only a half a percent between the grand prize winner Condie and the first place winner, Karen Villanueva.
An eighth-grader Villanueva was one of only two entries from Sierra Vista Middle School. Her project investigated whether blood spatter or fingerprints are more useful in solving a crime.
Earning second place honors was Belen Ruiz, a seventh-grader, who tested different wrappings for cheese to determine what kind kept the cheese fresh the longest.
Six students were awarded honorable mentions, including Maricela Santana, the other student from Sierra Vista who entered the competition. Other honorable mentions went to Marlee Weets, Briteny Zhu, Rebekah Gomez, Samantha Norem and Yajaira Ayala.
The competition had 23 participants this year. All the students will be going to the Mid-Columbia Regional Science and Engineering Fair taking place March 13-15 in Kennewick.