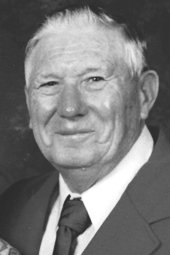 Raymond Austin Johnson, 90, of Sunnyside died Monday, March 3, 2014, at Holy Family Hospital in Spokane.
Ray was born in a farmhouse near Wood, S.D. to Austin Walter Johnson and Lillian Johanna Wagner. He was the second of nine children.
Ray's early education took place in South Dakota. He traveled daily to school several miles on horseback. His family relocated to Tensed, Idaho after the Midwest dust bowl of the 1930s and the Great Depression virtually eliminated any job opportunities and chances of prosperity.
Ray continued his education in Tensed until the family moved to Mabton. Ray's younger brother, George, described the move to Mabton as a move to "the Garden of Eden." Ray graduated from Mabton High School in 1942 and was valedictorian of the senior class.
Ray worked at the Old National Bank in Sunnyside, where he met his best friend and future wife, Marie Olson. Father H.A. Reinhold officiated the marriage ceremony in February 1947. Ray and Marie spent more than 66 years together creating many unforgettable memories.
Ray placed a high priority on hard work and providing for his family. In 1952, Ray and Marie partnered with Marie's older sister, Della Caton and her husband, Harold, to purchase the 410 Market in Sunnyside. They worked the business together for more than 31, years retiring in 1983.
Even though Ray truly loved farming, his most endearing passion was the great outdoors. He spent countless hours horseback riding and conducting pack trips to high mountain lakes on the back of his favorite Morgan horse, "Shawalla Pride."
Ray considered himself quite a handyman. His tool kit consisted of Liquid Steel Glue, Contact cement and duct tape. With these items, there was nothing that couldn't be repaired.
Country music was a big part of Ray's life. He had an extensive collection of vinyl records, which were a cherished possession. Marty Robbins, Ernest Tubb, Red Foley and Cowboy Copas were Ray's country music heroes. He and Marie loved dancing together well into their golden years.
For many years, Ray and Marie traveled the west coast enjoying their thoroughbred race horses. They found themselves in the winner's circle many times with Yankee Twister and No More Lemons.
Ray absolutely loved fishing. He caught and landed virtually every species of fish in the western United States. Rumor has it that his tackle box should be insured and placed in the fishing Smithsonian Institute. He particularly enjoyed salmon and steelhead fishing. One of his greatest joys came from taking his kids and grandkids fishing.
Ray was the master chef at the barbeque. Countless delicacies always included his secret ingredients, which he would not divulge even to his wife. Grilled salmon, turkey, steaks and chicken were all specialties of Chef Ray.
Ray is survived by one son, Ron (Nancy) Johnson of Yakima; two daughters, Judy (Ethan) Reavis of Spokane and Lori Sander of Yakima; nine grandchildren, Michael, Martin and Matthew Johnson, Jenni Wilbanks and Kyle Reavis, Mitchell and Nick Sander, and Julia and Vanessa Johnson; five great-grandchildren; his sisters, Genny Rapp of Spokane, Dorothy (Fred) Rollinger of Yakima and Velma Sills of Issaquah; and brothers, George (Carol) of Sunnyside and his youngest brother, Bob (Graceann) of Palo Alto, Calif.
Ray was preceded in death by his parents, Austin and Lillian Johnson; his brothers, Harold, Frank and Ernie; and his youngest son, James (Tracia) of Tacoma, who died in October 2009 in an automobile accident..
Viewing and visitation will be held Sunday, March 9, 2014, from 5 to 7 p.m., with recitation of the Holy Rosary at 6 p.m. at Smith Funeral Home Chapel in Sunnyside. Mass of Christian Burial will be held Monday, March 10, 2014, at 10 a.m. at St. Joseph Catholic Church in Sunnyside, with internment to follow at Lower Valley Memorial Gardens in Sunnyside.
In lieu of flowers, those wishing to honor Ray's memory may contribute to the Sunnyside Fire Department.
Those wishing to sign Ray's online memorial book may do so at www.funeralhomesmith.com.
Smith Funeral Homes Ltd. and Crematory in Sunnyside is in charge of arrangements.

More like this story