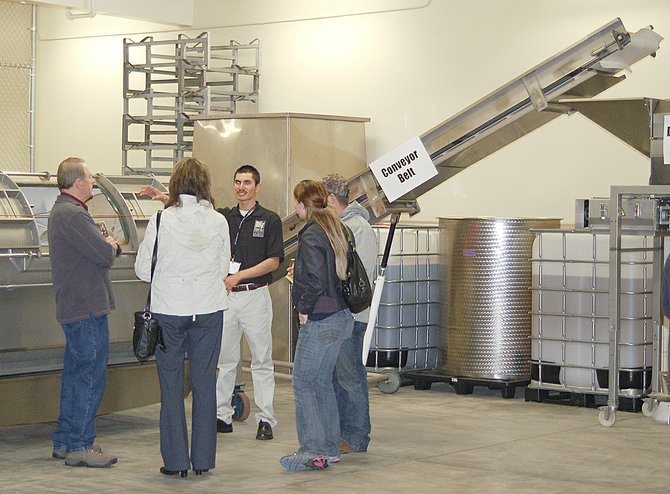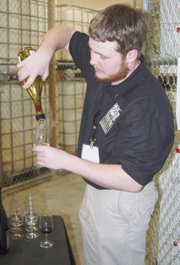 GRANDVIEW – The fifth annual Teach, Tour & Taste event at Yakima Valley Community College's teaching winery was a big success despite a rainstorm dampening the area Wednesday night.
Students at Yakima Valley Vintners and in the wine marketing class put on the open house each year to learn how to promote the product and to give the public an inside look, and taste, of the winery and its products.
Despite heavy rain, crowds of people from as far away as Yakima and the Tri-Cities were in attendance, enjoying the tour and the atmosphere of the tasting room, which featured live music for the event, a first.
The tour started with a video overview of the entire wine-making process and what the course at YVCC has to offer students. Then people were invited into the winery and given a glass to start tasting.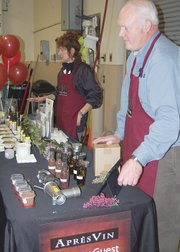 Justin Harwood, an agribusiness major, was pouring at the first table. He said he was participating in the event to learn more about marketing and to get experience meeting the public.
Guests were invited to examine winemaking equipment used by the students. Enrique Reyna explained the uses of each machine to tour groups.
Reyna's experience with the machinery comes from more than just the class. He said he's been working at a vineyard for the last seven years.
"There was a lot I didn't know," he said. "Gaps in my knowledge were filled by the class. I know why things are done a certain way now."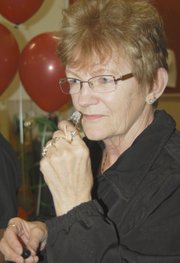 Reyna, who started the class in January, hopes to eventually have his own small winery.
In addition to students, a guest vendor was invited to promote its product at the event. AprèsVin Enterprises, Inc., a Prosser company that uses wine pomace to produce high quality grape-seed oil and flour, had a table with samples.
Eric Leber, company president, explained how his business fits in with the winemaking process to result in sustainable farming. Pomace is the waste left after pressing grapes for the juice. AprèsVin separates grape seeds from the pomace, then makes oil and flour from the seeds. The rest of the waste can be used as organic fertilizer.
Guests on the tour also learned about the barrel aging process and how it imparts different scents into the wine, depending on a variety of factors, including the wood used to make the barrels.
The final stop on the tour before the tasting room itself was the bottling area, where advisor Brad Smith said students are able to bottle about 50 bottles an hour during the peak.
In the tasting room guests were treated to a variety of cheeses and treats along with more tasting opportunities. Students also did a brisk business selling the results of their labors.