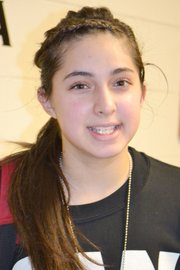 "When I was a freshman we only won one game and we barely won that," SHS senior Vanessa Alvarez says of her introduction to Lady Grizzly basketball.
The only senior on this year's hoop team at State for the first time in more than a decade, Alvarez can't stop smiling when she thinks of how far the program has come in just four years.
"It's a good feeling," she says of contributing to a team in this, her final year that has so far won 21 games and made it to the Tacoma Dome.
Basketball is very much a team sport, and Alvarez says it has been an entire team makeover. She credits an influx of younger players who competed together for several years before they made the jump to high school ball.
Besides the tangibles of players filling their roles, there are also the intangibles like attitude shifts in the Sunnyside girls hoop program.
"We've gained confidence and it's motivated us," she says.
Coach Rick Puente says Alvarez will be missed next year. But right now he's focused on the season at hand and helping his senior end her final campaign with hardware in hand.
"We want to give her a great finish," he said.