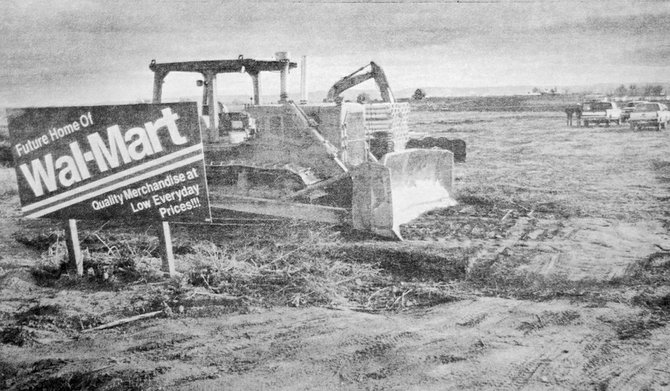 Over the Shoulder
A look back in time from the files of the Sunnyside Daily Sun News and Sunnyside Sun
110 YEARS AGO…(1904)
Economic experts, including E.F. Blaine of the Denny-Blaine Land Co. and S.J. Harrison and H.M. Lichty of the Christian Co-operative Colony movement, predicted Sunnyside would grow in 10 years to a population of more than 4,000 with more than a half a million dollars in bank deposits.
The honor roll for the second grade in Sunnyside was made up of May Swope, Myrtle Barnes, Miriam Brown, Marguerite Higgins, Martha Stonestreet, Stella Rinehart, Austa Stackhouse, Eva Erand, Frances Steward, Mary Young, Walter Painter and Theodore Atkinson.
100 YEARS AGO…(1914)
The Sunnyside High School debate team of Agnes Golob, Floyd B. Steritt and Lovisa Youngs won against Toppenish, Mabton and Kennewick but lost to North Yakima.
An unbroken colt teamed with an older horse bolted while hitched to a wagon at the Kostenbader ranch near Sunnyside. The wagon demolished a pump before Earl Kostenbader managed to steer the horses into a peach tree.
90 YEARS AGO…(1924)
A stolen mail sack was recovered in a patch of weeds being burned by Clayton Asselstine on his father's ranch. The sack had been stolen the previous October and had contained warrants for local teachers and checks for local businesses. The partially burned sack was returned to the post office.
80 YEARS AGO…(1934)
Dick Murfin was named the valedictorian of the Sunnyside High School graduating class, with Helen Wilson named as salutatorian. The 52 seniors were the largest class ever for the school.
The 6-year-old daughter of Mr. and Mrs. J.C. Matthias of Sunnyside was hit by a truck while crossing the state highway in front of her home after getting off a school bus. Although she was thrown into the air, she was only badly bruised and shaken.
70 YEARS AGO…(1944)
The Sunnyside High School rifle club, made up of Ted Haney, Ray Minich, Margaret Campbell, Jim Mendenhall, Tom Dillon and Pat Crawford, was preparing to compete at the Hearst trophy shoot.
60 YEARS AGO…(1954)
State Sen. Albert D. Rosellini spoke at the Sunnyside Democratic Club meeting in front of about 85 people. Rosellini addressed riots at state prisons in Walla Walla and Monroe.
50 YEARS AGO…(1964)
Sunnyside boys Bob Amundson, Ken Berg, Mike Tollefsen, Thumper Dunning and Jim Van Worden were selected to attend Boys State at Pacific Lutheran University in Tacoma.
40 YEARS AGO…(1974)
Lines at gas stations were not anticipated to get any shorter as allocations of gasoline continued. Some Sunnyside stations served only longtime customers.
30 YEARS AGO…(1984)
While preparing to close their hardware shop, the Amundson family located a number of artifacts from earlier times at the store, including a 1910 catalog that featured saddles for $11.25, a solid brass crib for $18.95 and a complete dining room set for $69.85.
The Sunnyside School District adopted "asparagus time" to allow students to help with the harvest. Superintendent Jack Middleton said students taking the extra half-hour before school needed permission from parents and a card signed by an asparagus grower.
20 YEARS AGO…(1994)
The possible location for Sunnyside's new Law and Justice Center was narrowed down to five sites: 8.6 acres northeast of Kmart on Yakima Valley Highway, 14 acres on the north side of South Hill Road west of Bi-Mart, four acres on the north side of East Edison Avenue east of Mid-Valley Mall, 10 acres on the south side of Homer Street west of First Street and south of Yakima Valley Highway, and 10 acres on the west side of Saul Road between South Hill Road and Otis Avenue.
10 YEARS AGO…(2004)
Sunnyside High School produced "Joseph and the Amazing Technicolor Dreamcoat" with Robert Grimmer playing the lead role, Mitch Lathen as Jacob and Troy Whittle as the Pharaoh.
The Wal-Mart distribution center in Grandview opened its doors, with a delivery of cases of ketchup.