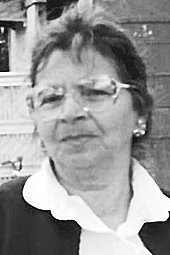 Angelita Perales, 78, of Outlook passed away peacefully on March 3, 2014.
Born to Encarnation and Refugia Hernandez on Oct. 1, 1935 in Elsa, Texas, as a young girl she migrated to the state of Washington with her parents and eight siblings from the state of Texas. Settling here and eventually putting down roots in Outlook, Angelita lived here for 54 years. Even though they put down roots in Washington she always insisted that she was a Tejana.
In the early 60's she married Rodolfo Perales and together they raised five girls; Sylvia, Rebecca, Mary Esther, Carmen and Estella.

Angelita enjoyed swap meets, second hand stores, working in her yard, sewing and crocheting. Our mother was a very outgoing and a very friendly person, she never knew a stranger. As a young girl she worked in the fields with her parents and as an adult she worked for Snow and Sons in Outlook and for Independent Foods in Sunnyside, where she retired at the age of 72.
She is survived by her daughters, Sylvia (Sergio) Galindo of Sunnyside, Rebecca Saenz of Tacoma, Mary Esther Cabrera of Outlook, Carmen (Tony) Alires of Yakima and Blanca Estella (Dean) Lenzi of North Las Vegas; two brothers, Aaron Hernandez of Sunnyside and Efrian Hernandez of Sunnyside; two sisters, Trinidad Yanez of Zillah and Magdalena Muniz of Metolius, Ore.; and 12 grandchildren and 10 great grandchildren.
She is preceded in death by her husband, Rodolfo Perales; four brothers, Joaquin, Facundo, Luis and Estanislado Hernandez; her parents, Encarnation and Refugia Hernandez; and one granddaughter, Leticia Roman.
The family would like to give a very special thank you to Angie's daughter, Mary Esther, for the loving care she gave her mother for the last 14 months. "It was an honor to care for my mother".
Services will be held at 9 a.m., March 8, 2014 at Valley Hills Funeral Home in Sunnyside. Graveside services will follow at the Elmwood Cemetery in Toppenish. Condolences can be sent to www.valleyhillsfh.com.
More like this story