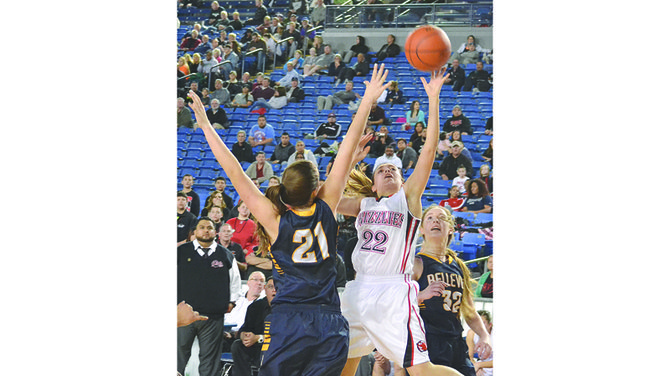 TACOMA - A nothing-but-net trey by Bellevue's Mandy Steward just 20 seconds into the game set the tone as the Sunnyside Lady Grizzly basketball team lost a 3A State tourney quarter-final tilt to the Wolverines yesterday by a score of 66-58.
Bellevue, a semi-finalist at last year's 3A State tourney, was fearless from three-point land at the Tacoma Dome on Thursday. That was especially true of Steward, who attempted and drilled treys from well beyond the arc on the way to a 32-point barrage against the Lady Grizzlies. A 5-9 junior, Steward knocked down 5-of-7 attempts from behind the three-point line.
Despite Steward's fireworks and the loss of its tallest player, Tiana Perez, in the second quarter due to an ankle injury, Sunnyside had an abundance of chances to walk off the Tacoma Dome floor victorious. The Lady Grizzlies got open looks in close and from long range but struggled to find consistency. Sunnyside made less than a third of its shot attempts overall and was ice cold from three-point range, hitting just 3-of-16 attempts.
That inconsistency proved costly. Repeatedly, Sunnyside would fall back, rally to the brink but just couldn't overtake the Wolverines.
Sunnyside trailed by 18-10 after one quarter but an Emilee Maldonado trey to start the second stanza gave the large Sunnyside crowd hope. The Lady Grizzlies actually had chances to tie things up before the half, but a pair of late turnovers led to Bellevue grabbing a 30-23 lead at the break.
The Lady Grizzlies (21-4) rallied from a 10-point deficit midway through the third quarter to tie the contest. Trailing by just one point heading into the final quarter, 45-44, the game was there for the taking.
In a classic case of "woulda, coulda, shoulda" Sunnyside had multiple opportunities to take the lead in the fourth stanza but never did. Its hopes were dashed by either a misfire or turnover. In fact, it was back-to-back turnovers midway through the fourth that helped Bellevue grab a six-point lead with three minutes to play.
The Wolverines, who were without Coach Leah Krautter as she was in labor with her first child, hit 5-of-7 free throw attempts down the stretch to snap Sunnyside's 11-game win streak and advance to tonight's semi-final contest against defending State champ Cleveland.
"They're a great team and it showed," Sunnyside Coach Rick Puente said of Bellevue. "We just couldn't get the bounces tonight."
A bit of opening jitters for the Sunnyside girls' first State tourney game since 2002 might also have hampered the Lady Grizzlies, especially early on.
"We were really nervous about it," said Vanessa Alvarez, the lone Lady Grizzly senior. "We've never had competition like this before."
Teammate Jordan Rodriguez, a junior who paced Sunnyside last night with 15 points, nine rebounds, four steals and two blocked shots, said losing Perez made it tough. "That hurt us, that made it harder to stop them inside."
Puente agreed, noting that losing the 5-10 Perez meant Sunnyside had to give up another seven inches or so against the Wolverines, who were led in the paint by the six-foot Shelby Cansler with 15 points, 10 rebounds and two blocked shots.
Another indicator of how Sunnyside missed Perez is that the junior was Sunnyside's second-leading rebounder last night with five boards - including three caroms off the offensive glass - despite crumpling to the floor and leaving the game midway through the second quarter.
Other key contributors for Sunnyside were Maldonado with 13 points, Selena Rubalcava with 9 points and four steals, Natalia Bazan with 7 points and Jessica Mendoza with 7 points and four rebounds.
The Sunnyside coach expressed pride in his team for not caving on a big stage when Bellevue bolstered its lead to double digits midway through the third quarter.
"They just never say die. These girls are hungry, they don't take defeat as an option," Puente said of his club.
He says that fiery spirit remains with the girls even after last night's tough loss. After all, Sunnyside's girls still have a chance to clinch their first state hoop hardware since 1991 with a win over Lincoln in today's loser-out consolation round.
"We didn't come here to be two and done," Puente said. "We're going after it."
To win today and clinch a spot in Saturday's 9:30 a.m. fourth/sixth place trophy game, he says Sunnyside will have to bring its 'A' game. "It's going to take a good game, we'll have to fight and be efficient."
Adds Rodriguez, "We just need to play together as a team. We have to go all out."
That's the Lady Grizzlies. All together, all out and all in for a trophy run.