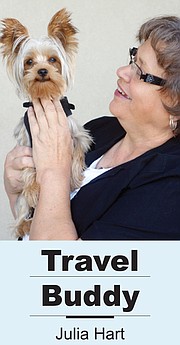 I like taking South 16th Street past the Sunnyside schools on my way home on most afternoons.
Yes, I know that school traffic can be pretty slow, but really the most a person has to wait for the traffic to start moving is maybe three or four minutes. Still, I like to go that way because I live near there and frankly, I like seeing the children hurrying home.
I'm rarely in a hurry, unlike the driver who was just ahead of me this past Monday afternoon. He not only seemed in a hurry, but was a very rude person as well.
Anyone who has driven in this town knows that between 2 and 4 p.m. in the afternoon, the school zones are loaded with back-to-back motorists and school buses. Everyone is intent on picking up children for the trip home.
The Sunnyside School District crossing guards do double duty helping children safely cross the street by managing traffic control. That means stopping cars and other vehicles to allow the school buses into the flow of traffic. It can sometimes be a little scary, especially when the drivers, like the Impatient Monday man, edge their vehicles very close to the crosswalk, narrowing the path available for children to safely cross the streets.
I don't know why the driver ahead of me felt it necessary to yell personal insults at the Chief Kamiakin Elementary School crosswalk guard. She was dressed in her cautionary yellow vest, doing her duty to keep children safe as they crossed the street after school.
As near as I could tell all of the other drivers filling the two lanes of traffic were willing to let her do her job. All except for that one driver ahead of me. He apparently felt his urgency trumped the children's safety.
The driver had no call to shout obscenities at the crossing guard and definitely he should not have done so within earshot of the 100 or more children making their way home.
When I told Buddy, my canine confidante, about the crosswalk incident, he seemed eager to get back into our car and go chase down that driver. I believe if we had, Buddy would have had a few choice names to call that insensitive driver all the while giving him a "good barking, too."

I really wished Buddy had been in the vehicle with me. I might have been brave enough to have jumped out of my own van and gone to the defense of the school employee. I am sorry I didn't.
Buddy, who thinks he is the protector of our neighborhood, also claims the school zone near where we live as his territory. I am sure he will be keeping his eye out for other nasty drivers and will be attempting to suggest they take an alternate route on their way home.