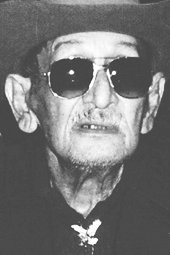 Carlos R. Rodriquez, 87, of Pasco and a former Prosser resident passed away on Thursday, March 6, 2014.
Carlos was born Sept. 26, 1926 in Corpus Christi, Texas, the son of Jenaro and Manuela (Rodriguez) and Resendez.
On Feb. 1, 1953 he married Augustina Sanchez in Toppenish.
Carlos worked as a migrant farm laborer and also worked for Burlington Railroad.
He enjoyed fishing, working as a mechanic, singing, playing saxophone, gardening and family outings.
Carlos is survived by his children, Sylvia (Jose) Delgado of Warrenton, Ore., Blanca (Guadalupe) Vera of Blaine, Carlos Rodriguez of Longview, Maria Rodriguez of Pasco, Jose Rodriguez of Sunnyside, Luisa (Felipe) Quintero of Woodburn, Ore., Norma (Jesus) Lino of Caldwell, Idaho, Santos Adalberto Negrete of Seaside, Ore., Roberto Rodriguez of Yakima, Idolina Rodriguez of Kennewick and Jenaro (Delia) Rodriguez of Union Gap; and a special nephew, Jessie Adame of Grandview; 34 grandchildren; 37 great- grandchildren; and two siblings, Uvence Resendez of Sunnyside and Julia DeLuna of Texas.
He was preceded in death by his parents, Jenaro and Manuela; his wife, Augustina Rodriguez; one brother, Francisco Andeverde; and four sisters, Trinidad, Felipa, Lupe and Santos.
Viewing and visitation will be held today, March 10, 2014, from 3 to 8 p.m., with recitation of the Holy Rosary to be recited at 6 p.m. at Smith Funeral Home Chapel in Grandview. Mass of Christian Burial will be held Tuesday, March 11, 2014, at 10 a.m. at Blessed Sacrament Catholic Church in Grandview, with burial to follow at Grandview Cemetery.
Those wishing to sign Carlos's online memorial book may do so at www.funeralhomesmith.com

Smith Funeral Homes LTD. and Crematory in Grandview is in charge of arrangements.
More like this story