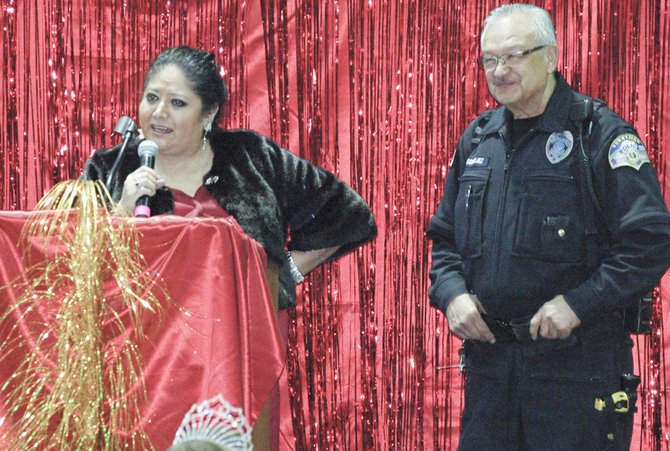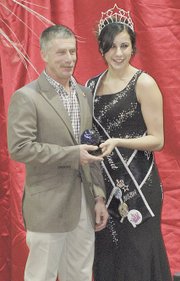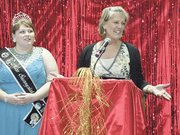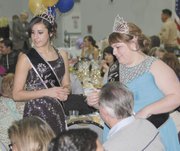 The Spirit of Sunnyside Awards Banquet last Saturday night honored people who have worked hard to make Sunnyside a better place to live and work. Those recognized included two long-time business owners, two firefighters and a brand new city councilman.
The packed event at the local community center started with an unexpected and almost off-the-cuff moment by Teri Alvarez-Ziegler, who called up police officer Chico Rodriquez to say a few words before his retirement at the end of this month.
Rodriquez, who was serving as security for the event, took the stage to a standing ovation and told the crowd he will continue to be active in the city.
Alvarez-Ziegler then turned the stage over to Mayor Jim Restucci, who introduced this year's award winners.
Earning the Beautification Award was Rod and Irene Jochen of Fashion Corner. The mayor noted that they have maintained and updated their storefront to keep the downtown core looking its best.
Restucci took some time to list the accomplishments of the Youth Award winner, Stefani Anciso. The teen has been active in a variety of clubs and teams at Sunnyside High School while still maintaining an almost perfect GPA. She is also active at church as well as school, has volunteered in the community and served in school government.
"And if this wasn't enough," said Restucci, "in 2011 at the age of 15 this individual earned the Mayor's Award for overseeing and coordinating her neighborhood block watch for the National Night Out event, and in 2012 was inducted into the National Honor Society and was nominated for the Congressional youth leadership conference."
The Business Person of the Year Award was presented to Silvia Ramos for her demonstrated desire to be part of the community by volunteering on a number of community organizations and boards.
"This individual has dedicated countless hours to assist individuals with their small business needs and through their business helps them to achieve their dreams," said Restucci.
The Business of the Year Award was presented to a person that Restucci said, "We are all familiar with, but probably don't see it as a business, because the service they provide to us is one of caring and usually comes to us at a time in our lives when we are truly not focused."
Valley Hills Funeral Home earned the award for more than 50 years of service to the community.
"There truly is no way of telling how many people's lives this company has helped during a time of need," said Restucci.
Honored as Health Care Person of the Year was Cheryl Startup. Restucci said she is a pillar in Sunnyside's medical community who "has touched the lives of thousands of our citizens."
The award for Educator of the Year went to newly minted city councilman Spencer Martin, who was honored for his efforts to get Science, Technology, Engineering and Math courses into the Sunnyside School District.
Martin's work helped to establish the first robotics and aerospace engineering program at the high school.
"As your mayor I am proud to be a member of the committee that oversees this program," said Restucci. "And as a technologist I am excited about what STEM can do for our children."
The honoree for Public Official/Employee of the Year was Fire Chief Aaron Markham, who has been a firefighter for more than 20 years.
"As a member of the city council since 2004," said Restucci, "I can tell you, I have not met a finer example of what it means to serve our community and my deep mutual respect and admiration for Chief Markham cannot easily be put into words."
The Volunteer of the Year Award was given to Sunnyview VFW Post 3482 Commander and State of Washington VFW District #17 Commander, William (Bill) Ingram.
"We see this individual every year, rain or shine, in the snow and even in the heat of the summer. They attend every parade, flag raising, wreath dedication, school program and veteran funeral," said Restucci. "As a matter of fact, in 2013 this individual performed 52 military funerals, providing those service members who gave the ultimate sacrifice, as well as veterans who have left us, a proper burial."
Restucci said that he had to work to convince Ingram to stay for the entire ceremony.
"He was willing to come and perform the flag ceremony, but then he wanted to leave," said Restucci. "I asked him to stay as the mayor's guest."
The recipient of the Pioneer Award, Dr. Jon Mercer, was not present to accept his trophy. Accepting for him was Sunnyside Community Hospital CEO John Gallagher, who said that Mercer would have hated to accept the award, as he is very humble.
Restucci cited Mercer's 47 years as a veterinarian in Sunnyside along with his work on the board of directors of the hospital.
"When the former two hospitals in Sunnyside were merged," said Restucci, "he played an integral role in the process and helped create a smooth transition for the community to receive the best care."
The final award of the evening was the Hero Award, and was given to Sunnyside Volunteer Firefighter/EMT Aaron Hunsaker.
Restucci told the story from the point of view of the person who nominated him.
"About eight years ago, my family was having a graduation party at our home in Sunnyside. Interestingly enough, Aaron had chosen to wear his EMT t-shirt that day. We were all enjoying the weather that June brings and were out back by the pool.
"As you can guess, one of the little ones ended up at the bottom of the pool when no one was looking. Thank God for the kids that saw him and immediately responded by getting him out of the water. My son, who was about 13 years old, carried him directly to the man with the EMT shirt on. He knew from school that EMT meant emergency medical technician.
"Aaron did not waste a second. He sprang into action and immediately started performing mouth to mouth resuscitation, and directing those around to call 911. When the Sunnyside paramedics arrived they didn't have much to do, as this individual had already done his job. They took the child to the hospital to have him checked out and he was ok."
Hunsaker received a standing ovation from the crowd.
The annual event ended with a dessert auction for charity.