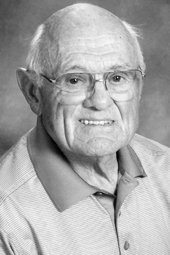 John Francis Flodin, 86, of Moses Lake went to be with our Lord on Wednesday, March 5, 2014, surrounded by loving family.
John was born in Yakima to Frank and Francis (Belair) Flodin.
His early years were spent in White Swan and Ellensburg, where he learned to hunt, fish and play the saxophone.
In 1942 the family moved to Seattle, then to Stockton, Calif. in 1945, where John completed high school.
After graduation John joined the Merchant Marines for a short stint then was drafted for the Korean War. After graduating from Artillery OCS School he was shipped to Korea as a forward observer, where he spent six months on Sandbag Castle in the western edge of the Punch Bowl calling in fire. John was then transferred to Battalion Headquarters, where he assumed added responsibilities as the Battalion S-3. John was awarded the UN Service Medal, Korean Defense Medal and the Bronze Star.
Upon his return to the Yakima Valley in 1954 John learned that his father Frank had committed to building a potato fresh packaging facility on a handshake. Shortly after, Flodin Inc. was formed.
John met Mildred Thomas, the love of his life, while skiing at White Pass. They were married on Dec. 10, 1956 in Prosser, and resided in Sunnyside for 30 years.
Large extended family get togethers were common and filled with music.
In 1986 they moved their business and home to Moses Lake.
Over five decades, John (and many family members) oversaw the manufacture and installation of 67 potato and vegetable processing lines throughout Washington, Oregon, Idaho, Canada, Australia, Great Britain, Argentina, Chile, Mexico, Romania and Poland. Over his lifetime, John was awarded 16 patents.
In 1999 Millie died. Late 2006 John retired and spent as much time as possible golfing at Moses Lake Country Club. He had seven "Hole in One."
In 2009 John was further recognized for his meritorious service in Korea, when he was inducted into the Fort Sill Field Artillery OCS Hall of Fame. 
John died the same way he lived, happy, laughing and surrounded by people who dearly loved him.
He is survived by his children and spouses, Pat Warren, Nanette and John Smyser, Rob and Cia Flodin, James and Melissa Flodin; his grandchildren, Jason, Kristi, Ashley, Emili, Brian, Tiffany and Douglas; great-grandchildren, Jonathan, Daniel, Nathaniel, Jaxsyn and Emma; and one brother, Bill Flodin.
He was preceded in death by his parents; his wife, Millie; one brother, Allan Flodin; one sister, Mary Krous; and one son-in-law, Timothy Taunt. 
Viewing will be held Wednesday, March 12, 2014 and Thursday, March 13, 2014, from 11 a.m. to 5 p.m. at Kayser's Chapel, 831 S. Pioneer Way in Moses Lake, and on Friday, March 14, 2014, from noon until the time of recitation of the Holy Rosary, at 1 p.m. at Our Lady of Fatima Catholic Church, 200 N. Dale Rd. in Moses Lake, followed immediately by a Mass of Christian Burial, at 1:30 p.m.
Please sign the guestbook at www.kayserschapel.com.
Memorial contribution suggestions are available on the website.
Kayser's Chapel and Crematory in Moses Lake is in care of arrangements.