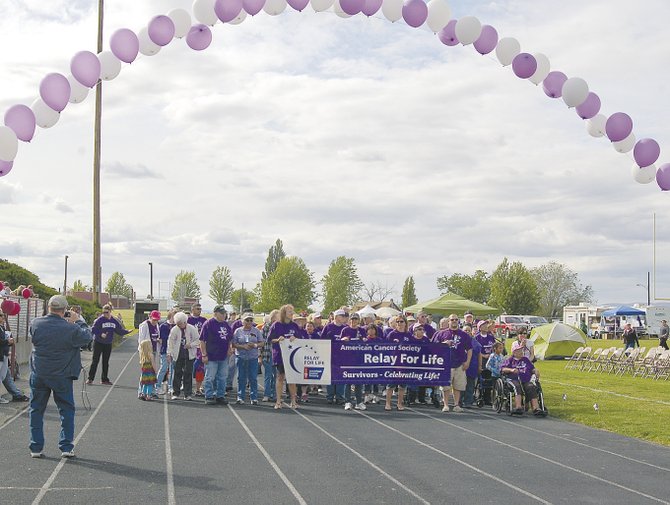 The annual Lower Valley American Cancer Society Relay for Life will have a new venue for its 2014 event.
Troy Berglund, chairperson for this year's fund-raiser, said the 24-hour relay will be held on Sunnyside's Sierra Vista Middle School grounds. The dates and times are still the same, May 17-18, from noon to noon, he said.
"And the fundraising goal for this year's event is $85,000," Berglund said.
"We already have teams meeting and we are eager to see more teams register for this year's event," he added.
Berglund said the Relay for Life committee and team captains meet once a month on the third Tuesday at Sierra Vista at 6 p.m.
The planning committee and teams captains will next meet Tuesday (March 18) and new teams are invited to come register to help raise money for local cancer aid and research, Berglund said.
"We started meeting in December, but there is still time for teams to register and we have a lot of fundraising ideas for groups wanting to organize a team and join this event," he said.
Berglund said the venue change from Grandview High School's football stadium to Sunnyside came about as a result of sporting event scheduling issues last year.
The Relay for Life event had been held for more than 20 years in Grandview. But last year's event was cut short by four hours because of the scheduling conflicts and the bad weather didn't help the relay event's attendance.
"We only had 36 teams participating last year," Berglund said, noting that this year's goal is for 50 teams with 600 participants.
He said last year's committee had set a goal of raising $75,000. The 2013 participants came close, collecting $71,851. "There still is plenty of time to organize a team and begin raising money in the fight against cancer," he said.
For more information about how to organize a team contact Berglund at 786-2913. Or plan to attend the captains meeting Tuesday, March 18, at 6 p.m. at Sierra Vista Middle School.