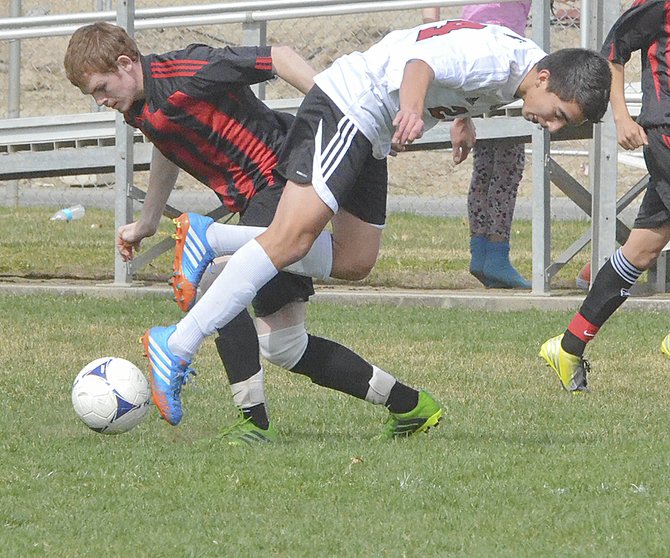 BOYS PREP SOCCER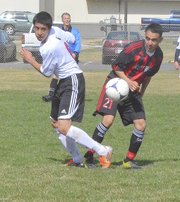 Forwards Christian Chavez and Alexander Marin combined for four goals and three assists to spark the Sunnyside Grizzly soccer team to a 5-0 thumping of East Valley last Saturday.
The host Grizzlies took control early with Chavez/Marin striking for three goals in the first 30 minutes.
Chavez got things going with scores in the 10th and 20th minutes, both assisted by Marin.
In the 28th minute, Marin found the back of the net following a corner kick by Luis Licona.
That put Sunnyside up 3-0 at the half, and the Red Devils continued to struggle over the final 40 minutes.
In the 49th minute Marin booted in a goal assisted by Chavez. With just two minutes to play in regulation, Alejandro Medina closed out scoring for the Grizzlies when he struck for a goal assisted by Joel Flores.
For the match, Sunnyside pounded a total of 14 shots on goal.
Marin is a sophomore transfer student in his first year with the Grizzly soccer program. Chavez, a junior, is making a comeback after injuries sidelined him from the Sunnyside pitch last year.
Grizzly Coach David Guevara said the early chemistry between the two forwards wasn't a surprise. In fact, he said Sunnyside is gelling well on both sides of the ball.
"We've been doing well at practice," said Guevara, who shares coaching responsibilities with Sergio Licona. "We've got a talented group. We're learning to play together, communicate."
Guevara praised his team's play on defense, with midfielder Jacob Meza converted to an anchor on defense. He said defenders Humberto Galvan, a senior, and freshman Jose Marquez did well at helping hold the Red Devils to just five shots on goal.
Ensuring a clean sheet for the Grizzlies was keeper Manuel Calvillo knocking away East Valley's five shot attempts.
Sunnyside also got a boost from a second starting freshman, midfielder Lupe Granados.
While Saturday was the first official contest for Grizzly soccer this spring, Sunnyside played a pair of non-counting 20-minute contests during a jamboree at Richland on Friday.
Sunnyside ended up in a 0-0 tie with Pasco in the first jamboree contest, and bested host Richland 1-0 in the other. The deciding goal came in the seventh minute when Sunnyside senior Enrique De La Cruz got the ball past four Bombers for a score.
Guevara said the focus for the season ahead is "…going 1-0 every day, never overlooking an opponent."
Sunnyside certainly won't be overlooking tonight's opponent, Grandview, which the Grizzlies will host at 7 p.m.
"It will be a good test for us," said Guevara. "Coach (Anne) Holden always has them prepared."