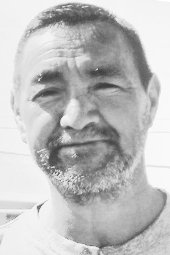 Freddie P. Camacho, 56, of Sunnyside passed away on Friday, March 14, 2014.
He was born Oct. 29, 1957 in Sunnyside, to John Camacho and Simona Pina.
Freddie grew up in the Yakima Valley and graduated from Sunnyside High School.
He loved to watch football, especially the Seattle Seahawks, working on cars, gardening, going to yard sales and flea markets.
One of his greatest joys in life was spending time with his grandkids. Freddie was always lending a helping hand to anyone that needed it. He would gladly have given the shirt off his back if someone needed it. Our father and best friend will be greatly missed by all who knew him and loved him.
Freddie is survived by his two sons; Freddie (Cynthia) Camacho Jr. of Sunnyside and Mike (Jenni) Burks of Virginia; one daughter; Chivon Burks of Yakima; two stepdaughters; Roxanna Martinez of Richland and Sylvia Bucio of Grandview; stepmom, Hilda Camacho of Linden; two brothers; Ernest (Luz) Camacho of Sunnyside and Jesse (Romana) Arriaga of Outlook; and one sister; Elsie (Richard) Marin of Ferndale; seven grandchildren; Sylvia Camacho of Mabton, Makayla Burks of Yakima, Jason Camacho of Mabton, Freddie Camacho III of Grandview, Anahi Camacho of Sunnyside, along with Marquis and Noel Garcia.
Freddie was preceded in death by his father, John Camacho; his mother, Simona Camacho; one brother, Joe Camacho; and his girlfriend, Betty Bucio.
Viewing and visitation will be held Wednesday, March 19, 2014, from 4 to 8 p.m., with recitation of the Holy Rosary at 6 p.m. at Valley Hills Funeral Home in Sunnyside. Services will be held Thursday, March 20, 2014, at 10 a.m. at Valley Hills Funeral Home.
Condolences can be sent to www.valleyhillsfh.com
Valley Hills Funeral Home in Sunnyside is in care of all arrangements.
More like this story