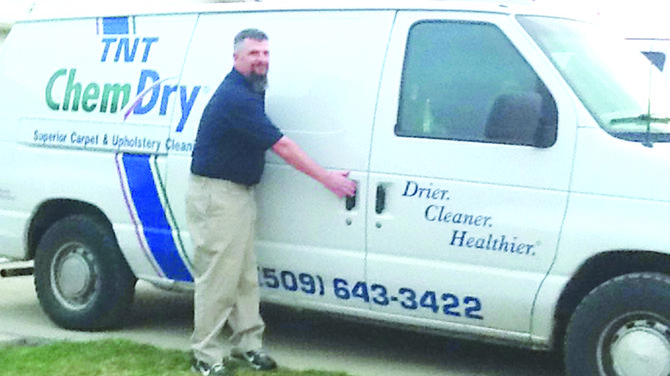 PROSSER – Todd Taylor is hoping to get the word out that there is a Chem-Dry franchise serving the Lower Valley again.
Taylor recently started TNT Chem-Dry in Prosser to serve residential and commercial customers in the Lower Valley, Prosser, Benton City and East Yakima. Chem-Dry is a green carpet and upholstery cleaning process that dries quickly.
"I like that carpets are dry in one or two hours," said Taylor. "I also like that it's safe. It's safe for pets and kids."
Taylor said he researched Chem-Dry and determined that it fit his needs and the needs of the Lower Valley.
"I wanted to be a business owner," he said. "But I want to run a good business. This is a good company to be part of."
Taylor is currently working solo, and said he appreciates the support offered by the parent company, including a call center that handles his appointments.
In the time he's owned TNT Chem-Dry, Taylor said he's gotten no complaints. He's still growing his business and learning tricks of the trade. Before becoming a business owner, Taylor was in sales.
"Every day is a learning curve," he said. "I'm still learning new techniques. I'm always learning something."
Taylor's business offers emergency or regular cleaning and also provides upholstery cleaning, pet odor treatment and removal of tough stains.
"I've seen this get out stains that other processes can't touch," said Taylor.
His business is open for regular hours Monday through Friday and on Saturdays by appointment. Appointments can be made through 509-643-3422 or online at www.chem-dry.net/tntchemdry.wa.