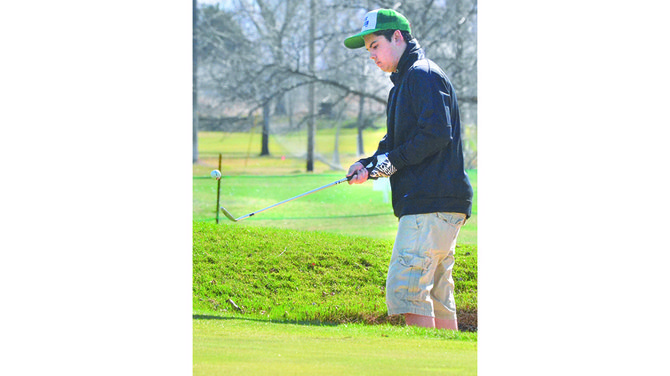 BOYS PREP GOLF
Yes, it was a Tiger (no, not that Tiger) who scorched Black Rock Creek Golf Course yesterday afternoon for a 4-over-par 76.
Aaron Whalen, turning in front and back nine scores of 39-37, led the Ephrata Tigers to a first-place finish against Ellensburg and the host Grandview Greyhounds.
Monday's three-school match was a non-league affair, and the second of five "friendlies" for the 'Hounds before they jump into CWAC play the middle of April.
Team-wise yesterday, Grandview had to post an incomplete on the score sheet. Only three golfers were at Coach Doug Veach's disposal. A minimum of four golfers are needed to tally a team score.
From an individual standpoint, sophomore Henry Pond appears to have his game in the best shape of the three GHS linksters who competed Monday. Pond stumbled a bit on the front nine, hitting the clubhouse turn with a 62. The soph shaved six strokes off that on the closing nine, however, tallying a 56.
Pond's 118 total proved to be eight shots better than the next closest finish from a teammate.
The 4-over-par round notched by Monday's medalist, Whalen, was especially impressive, considering the gusting, swirling pre-spring winds often translated into at least a two-club difference.
In addition to the 76 that Whalen posted for the Tigers, Ephrata received a rock-solid round of 83 from Josh Johnson. He shot bogey golf on the opening nine (45), but put up a splendid, 2-over-par 38 on the back side.
Also shooting sub-90 rounds for Ephrata, which totaled a team score of 333, were Mason Buchert and Elliott Boyd with identical 87's.
Ellensburg tallied a team score of 404. The Bulldogs were led by Riley Miller's round of 94, on front and back nine scores of 47-47. The 'Dogs also got a pair of 98's from Gus Jensvold and Coleman Sparling. Kolton Storey rounded out the team scoring for Ellensburg with a 114.
Besides the 118 that Pond shot for Grandview, Anthony Kollmar got around the wind-swept Lower Valley course with a 126. Kollmar stayed consistent throughout with front and back side scores of 61-65. The 'Hounds were also represented by Damon Palacios. He went 72-68 (140).
The Grandview High School boys' golf team returns to its home Black Rock Creek course next Monday, when the Greyhounds host their annual invitational. Last year's invite drew 20-plus teams.