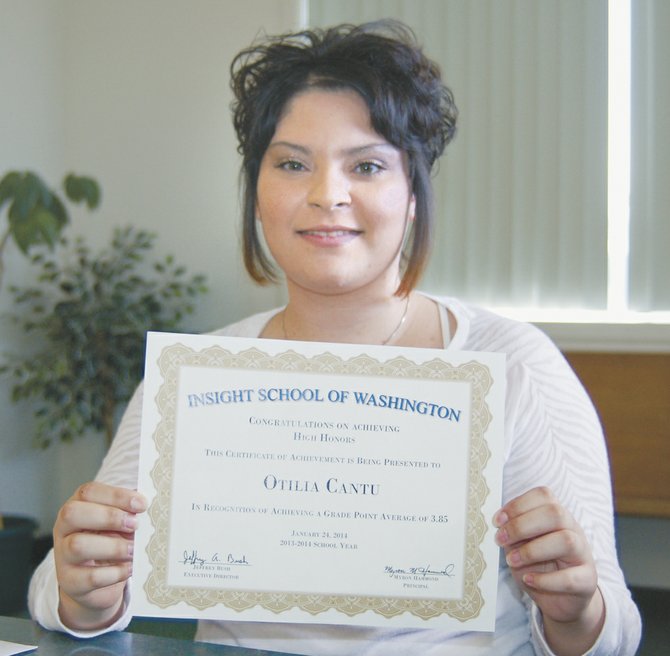 GRANDVIEW – In many ways, Otilia Cantu is having a typical junior year of high school.
She writes songs in her spare time and loves to sing. She's on the prom committee and was just named the editor of her school's yearbook.
But for this Grandview teenager, prom will be held in the Seattle area and the students in the yearbook will be from all over Washington state. Cantu is attending Insight School of Washington, an online public school.
Less than a year ago, Cantu's life was on a different path. After dealing with a long illness, her grades were suffering. Her classroom time was interrupted by doctor appointments. She said she also suffered from a lack of motivation.
"I wouldn't understand something, so I would ask the teacher about it," she said. "The teachers would explain it again, but I still couldn't understand. Then they would get mad at me."
She lost hope and respect for school.
"Before, I didn't care," she said. "I just ignored the teachers. I wasn't learning much."
Desperate to help her daughter find a better future, Cantu's mother, Ofelia Lopez, decided to try online learning.
"We heard an ad on TV for K12," said Lopez. "I looked it up online and thought it could work."
Cantu was accepted into the online school last October, and was given an interactive test in order to place her in the best classes for her skill levels. The test indicated that she was reading at a third grade level.
Cantu is now reading and writing at ninth grade level.
"I'm going to reach 10th grade very soon," she said.
Her dramatic improvement got her named as yearbook editor, a surprise to her.
"All the other kids on the yearbook staff hate me now," she said. "I've only been at the school for two semesters and I was named editor."
Lopez said the school provided everything that Cantu needed except for the internet connection.
"They sent the computer, the printer, everything," she said. "They said if we couldn't afford an internet connection that there are places with free internet, like the library or McDonald's."
The school also provides books, which are sent with return labels to students and also provided electronically.
"There's no excuse, you always have your class materials with you," said Cantu.
The program started out slow-ly with just mathematics and English for her first classes. This semester she's taking six classes, including U.S. history, government and politics, life skills and career planning.
The format allows her to watch the teacher and communicate with other students and the teacher online. But the communications are carefully monitored.
"There's no bullying," she said. "We're all just there to learn."
The classes also allow for some flexibility. If she has an appointment, she can ask for an excused absence. Then she can watch the teacher's recorded lecture later on, only without the ability to get instant feedback for her questions.
Cantu said the teachers are more understanding. They explain the material, but if she doesn't understand, they send her links to other sources until they find one that helps her figure it out.
"I'm more determined now," said Cantu. "I like to learn. I get online at 9 a.m. and don't stop until midnight. I want to get ahead."
In addition to regular classes, Cantu has to check in with her advisor, an iCoach, each week. She also has to pass the regular tests required by the state.
"I've only got math left to pass now," she said.
Cantu has goals for the future, including going to college. She wants to become a speech therapist or a resource room teacher.
"My brother had speech problems," she said. "I want to help people that others have given up on."
Next year Cantu will be entering Running Start, a program that seemed out of reach less than a year ago.
Lopez said that she was so impressed with the program that she got her nephew to sign up. He is not in high school yet, so he attends a different school. But she strongly encourages people to check out online programs.
"A lot of parents don't look into it because they think it's a lot of work," she said. "It kind of is, but it's worth it."
Lopez said she also has an account and can monitor her daughter's work directly. She's also allowed to take the same classes, so she can assist her child with understanding assignments. Parents are also required to have regular online meetings with teachers.
Jeff Bush, head of Insight School of Washington, said that the program gives students a lot of flexibility.
"The online curriculum is available 24 hours a day, seven days a week," he said. "It's good for students who need a different time schedule."
Bush said the school also has high standards.
"Our expectations are steered by the state statutes and what is best for the students," he said.
The school is certified through the Quillayute Valley School District. Bush said that many people learn about the program from other people.
"We get some referrals," he said. "But most people learn about it through word-of-mouth."
Bush said that students must maintain a high level in classwork. Learning coaches and teachers are available to help students for daily or weekly sessions.
For Cantu, the program has done wonders. She's not sure what would have happened to her if she hadn't started at Insight. She is certain that she would be miserable. The school has given her the ability to achieve.
"I recommend it to any and every one," she said.