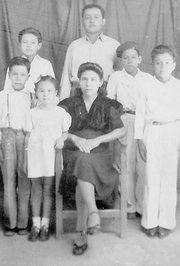 Benita Esqueda will celebrate 100 years of life this coming Friday at an open house hosted by her family.
By all accounts, Mrs. Esqueda, a mother of seven children and abuelita (little grandmother) to 33 children 82 great-grandchildren and 74 great-great-grandchildren, has led a life devoted to her family.
Her birthday open house celebration will be held at the Sunnyside home of her grandson, Armando Esqueda, at 1014 Upland Drive from 1 to 4 p.m. on Friday, March 21, and Saturday, March 22.
"I really think of her as my mother since she adopted me into the family when I was a baby after my father died," said Esqueda, who along with his wife Hermina, now serve as Mrs. Esqueda's caregiver.

Mrs. Esqueda has lived in the United States for the past 61 years. She and her husband, Inez Esqueda, came to the Lower Valley in 1956.
According to her granddaughter, Janie Palomo, her grandfather was a farm worker employed by Golden Gate Farms in Granger until his retirement.
"My grandmother has always been a housewife," said Palomo.
Palomo said her grandmother's daily work-out used to be working for hours at a time in her yard, starting well before the sun came up.
"She was very active and a longtime member of El Calvario Spanish Assemblies of God Church, always doing manual labor, such as making tamales or cleaning the church.
"Her favorite thing was going to visit homebound folks or folks in the hospital and praying for them," she added.
"Grandmother never traveled much and is a woman of few words," Paloma said.
"However, her conversations always end up talking about God and how He has cared for her and her children. She talks about things like making quilts, cooking for her family. It's always been about her family," Palomo said.
Palomo recalls her grandmother as a woman who never let anyone leave her house hungry.
"She always had food on the stove because, 'you never know'," Palomo explained.
"Everyone was treated the same in her home. She would always say, "It's not up to me to make a judgment, that's the Lord's job."

She loved working in her yard all the while singing hymns. She loved to listen to the bible on tape (because she was illiterate and could not read) and she loved to listen to her only son-in-law preach on the radio.

"My grandmother has always been the matriarch of the family, she didn't say much but when she spoke, you better believe we listened.

Her personal relationship with the Lord and the love for her family is what has kept her going, Palomo added.

"She has been an example to all of her children, grandchildren, great grandchildren and even her great-great grandchildren."