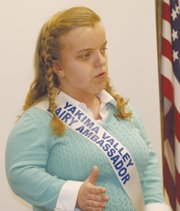 Think about this - the 91 dairy operations in the Yakima Valley produce 20 million glasses of milk per day.

That amounts to each dairy cow in the valley producing 170 glasses per cow per day.

That is a lot of cows and a lot of milk, according to Yakima Valley Dairy Ambassador Katie Hutchins.
Speaking before the Sunnyside Daybreak Rotary Club Wednesday morning, Hutchins said in order for those cows to produce that much milk the dairymen's main concern is the comfort and happiness of the herd.
"If a cow's routine is broken, she doesn't produce," she said.
So the farmer works very hard to make sure the cows are cool in the summer and kept warm in the winter. The animals are also provided cushioned walkways in the dairy barns.
Hutchins knows quite a lot about dairy work, not just because she is the county industry spokesperson. The Sunnyside High School graduate has her own herd of 30 Jersey cows, which she said is "on the grow."
"We are expecting a lot of calves this spring," she explained.
Hutchins said her family has 60 cows and direct markets their milk at the family milk processing plant to consumers and grocery markets throughout the Northwest.

"Our cows produce an average of 400 gallons per day," she said.

"We only process whole milk, presently," she added.
Hutchins, who has spent the past year promoting the dairy industry in schools and to civic and community organizations such as the Rotary club, is nearing the end of her year as dairy ambassador.
Hutchins will give up her ambassador title on Thursday, April 24, at the annual Yakima Valley Dairy Women's banquet to be held at the Barn Restaurant in Prosser. From there Hutchins will go on to compete for the state dairy ambassador title in Everett in June, according to LaVonne Boogerd, local ambassador advisor.
"I'm nervous about the next step," Hutchins said, but she is also excited to begin her collegiate career, where she hopes to major in agri-business and marketing.
More like this story