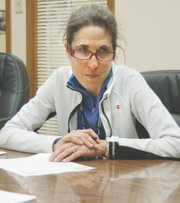 The use of city soccer fields and the opening date of the city pool were the main topics of discussion at yesterday's Sunnyside board of parks and recreation meeting.
Megan Razey, recreation coordinator, told the board about planned summer activities, including the city's soccer program.
A concern was raised about the use of the city's soccer fields. In the past, the demand by leagues for time on the fields has been high. Razey said she would make sure there is a fair process in place.
"I will assign fields as needed," Razey said. "There will be equal opportunities for all the community to use the soccer fields."
Razey also asked for input on potential city programs. The board discussed a possible arts program in Central Park and a summer softball program.
In other business, Razey said the recommended date for opening the city pool is Saturday, June 14. The date is the first Saturday after school lets out, which Razey said is the traditional date for the pool opening.
Razey clarified that the pool will be used before the opening date for school events and that a couple of the local elementary schools have already scheduled their annual swim days.
New board member Doris Matson asked about the pool closure dates, stating that she hoped the pool could be open on weekends leading up to the start of school.
Razey explained that last summer the attendance at the pool dropped off enough that the city was losing money by keeping the pool open at the end of the summer. She said the closing date would be determined in part by staffing.
The board also discussed the activities currently going on at the community center. In addition to the Silver Sneakers walking program, there is also a group that meets for basketball. Razey said she plans to prepare a schedule of events.
At last night's meeting the board also elected Robert VanHorn as chair and Bob Sarmiento retained his position as vice chair of the board. Also discussed was the vacancy on the board and the need to urge people to apply for the position. The board meets once a month and advises the city council on the city's recreational facilities.