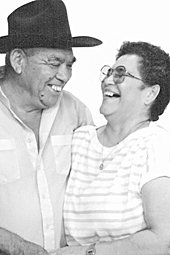 Estevan Moya Sambrano, 84, of Sunnyside passed on Wednesday, March 19, 2014, at his home, surrounded by his loving family.
Estevan was born Nov. 26, 1929, in Bastrop, Texas to Luis and Romana (Moya) Zambrano.
He attended elementary school in Texas.
On Jan. 17, 1950 he married Rita Castillo in Robstown, Texas.

Estevan worked as a farm laborer for many years at various farms in the Lower Valley.
He was an avid patron of the original Safari Restaurant and most recently at Legends Casino to enjoy time with friends and eat at the buffet.
Estevan enjoyed drives to the farms during spring to see the blossoms and to work on cars, taking them apart and fixing them. He liked to go to yard sales, he would say another man's junk was his treasure. He loved watching his novellas on T.V. with the volume set at 400. He enjoyed sitting at his kitchen table recording Spanish music off the radio recording more than 400 tapes, while having the police scanner on 24/7 to make sure his kids weren't getting in trouble.
He is survived by his 12 children, Esteban Zambrano Jr. of Grandview, Estella (Juan) Flores of Sunnyside, Elida Zambrano of Yakima, Ernesto (Faith) Zambrano of Richland, Emilio Zambrano of Zillah, Enrique (Sylvia) Sambrano of Sunnyside, Ricardo Zambrano of Sunnyside, Rosie (Joe) Montelongo of Grandview, Shana (Jesse) Gomez of Yakima, Casi Sambrano of Sunnyside, Luis (Becky) Sambrano of Richland and Martina (Henry) Carranza of Auburn; 24 grandchildren, 38 great-grandchildren; one brother, Luis Zambrano of Seattle; and three sisters, Dolores Seelly of Oregon, Maria Martinez of Texas and Asencion Vasquez of Sunnyside
He was preceded in death by his wife, Rita Castillo Sambrano; his parents, Luis and Romana; and three brothers, Felix, Donaciano and Marciano.
Viewing and visitation will be held Tuesday March 25, 2014, from 2 to 8 p.m. at Smith Funeral Home in Sunnyside. Graveside services will be held Wednesday, March 26, 2014, at 10 a.m. at Lower Valley Memorial Gardens in Sunnyside.
Smith Funeral Homes Ltd and Crematory in Sunnyside in charge of arrangements.