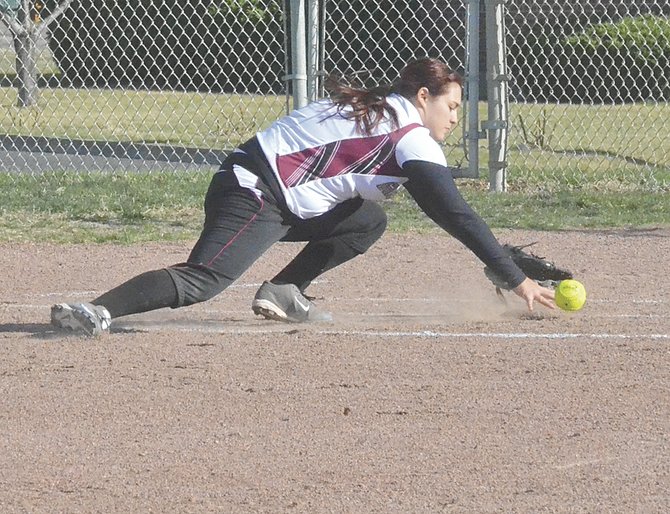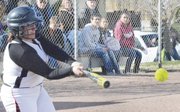 Yesterday's season opener for Grandview and Sunnyside was a non-league affair, but it was exciting to watch from the get-go for Lady Grizzly fastpitch softball fans.
Sunnyside opened the game with a 10-run outburst, on its way to blanking the Lady 'Hounds 16-0.
Megan Cassidy started the Lady Grizzlies with a single. The next batter, Kasy Kleinow, struck out, but Shawna Santini was next up to bat. She hit the ball to left field for an RBI single.
Johanna Chumley of Sunnyside was next up to bat. She hit a single and Santini advanced to third base. Amber Cornwell took first on a walk to load the bases.
Monique Gill followed with a hard shot to third. The ball was mishandled, allowing all three base runners to score.
The bases continued to fill up on base on balls, according to Sunnyside Coach Ralph Mendoza.
That provided Kleinow another opportunity to tally up a couple of RBIs on a single to right center field.
Santini was next up to bat and she brought in two runners on a triple.
"It was a big inning," said Mendoza.
The game ended after five innings on the 15-run mercy rule. Sunnyside scored four more runs in the third inning and two in the fifth.
Grandview had some bright spots, however.
Lady 'Hounds Coach Doug Hansen said he was pleased with his lead-off hitter, Briceida Ramos. The freshman started the game with a bunt to take first base.
Sadly, she was unable to advance.
"She is a designated player and a slap hitter," said Hansen. He said she had a another hit in the second inning, but Grandview was unable to capitalize on it.
Another positive highlight of the game, he said, was a double by Sadie Ross, who is the team's pitcher this season.
Ross threw 30 strikes, but Hansen said, the team needed more.
Grandview has just three players returning this season.
"I think there was a deer in the headlights reaction yesterday, especially after the first inning," Hansen said.
He said the team's goal is to work more on its defense as it prepares for games against Wapato and Toppenish next week.
"We have to get by them to have some success," said Hansen.
For Grandview, Ramos and Ross were 1-for-3 at bat, Victoria Mendoza was 1-for-2 and Maribel Torres was 1-for-1 with a walk.
Mendoza was also pleased with his team. He said, "it was a good way to start the season…Cornwell looks confident in the pitching circle and Chumley is behind the plate. They make a good combination and it's showing."
Sunnyside had 16 runs on 11 hits.
For the Lady Grizzlies, Gill was 1-for-3 with 5 RBIs, Cassidy was 1-for-2, Kleinow was 3-for-4 with 3 RBIs and Santini was 3-for-4 at bat with 4 RBIs.
Sunnyside tomorrow (Saturday) will host Pasco for a doubleheader.
Grandview will host Wapato next Tuesday, that match-up also being a doubleheader.