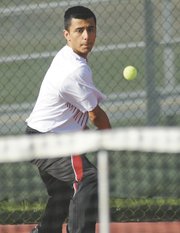 The Grizzly tennis squads both dropped 4-3 decisions against the Toppenish Wildcats in yesterday's season opener, but Coach Dave Downing said he's proud of the effort his players showed.
"We have some new players who did very well," he said. "Toppenish went to State last year. They have some solid players."
Alexis Osuna, the No. 1 singles boys player for the Grizzlies, put up a major fight in his nail biting loss to the Wildcats' Austin Kicking Woman. The final score was 6-3, 4-6, 7-5.
"That was a two and a half hour match," said Downing. "It was a real squeaker, it came down to the last point in the last set."
Downing said Sunnyside's No. 2 player, Nathan Laverman, easily won his match 6-1, 6-0 over Toppenish's Daniel Mendoza.
"He's an iceman," said Downing. "He plays cool and collected."
Also winning for the Grizzlies was Zach Halma, who put away his opponent in two quick sets, 6-0, 6-2.
"He's very capable," said Downing.
Sunnyside's No. 4 singles player, Trajen Frank, won by forfeit.
Sunnyside's doubles players had less success. Its No. 1 doubles team of Isaiah Lyczewski and Felix Garcia lost 6-0, 6-4.
"They got blasted off the court," said Downing. "They played much better in the second match."
The Grizzly No. 2 pair of Chris Martin and Michael Yan also lost in straight sets, 6-1, 6-0. The No. 3 pair of Alex Rodriguez and Cody Parke also had a tough defeat, losing to their Toppenish counterparts, 6-0, 6-2.
"They are a new pair with no experience," said Downing. "Rodriguez just came up from JV. They did very well for not being partners before."
Downing was philosophical about the 4-3 team loss, noting that it could have easily swung the other way if Osuna had won his marathon of a match.
The Lady Grizzlies also lost as a team, also by a 4-3 score.
"We have some very promising young players on the team," said Downing. "They will learn the game and get much better."
Downing said his powerhouse is the No. 1 doubles team of Mattie Meyers and Carla Rodriguez. They easily outmatched Toppenish, 6-0, 6-0.
"They are domineering and aggressive," said Downing. "I expect a lot from them this season."
Also winning was the No. 2 doubles team of Sydnee Hernandez and Karinna Mendoza. They had a much more difficult win, with scores of 7-5, 7-6(7-3).
"It was a tight game, very tough match," said Downing. "Sydnee is in her first year, she's never played before. She did great."
Two more first-year players, Stephanie Herrera and Mirella Ramirez, make up the Lady Grizzlies' No. 3 doubles team. Although they came out strong, they eventually lost the match in three sets, 3-6, 6-3, 6-0.
"I'm really proud of their effort," Downing said. "They are a tough pair."
In singles play, the Lady Grizzlies had some tough losses against a very strong Toppenish team.
"They were overpowered," Downing said of his girls.
Sunnyside's No. 1 player, Roxy Plancarte, fell to Wildcat Blanca Romero in two sets, 6-1, 6-2. Downing said she played hard, but was just outmatched.
Elexis Lepe, the No. 2 Lady Grizzly singles player, put in a lot of effort to come back from a scoreless first set to take a few games from Courtney Stancliffe of Toppenish. Lepe eventually lost 6-0, 6-3.
At No. 3 singles, Jasmine Lopez was defeated by Toppenish's Allison Huylar in two sets, 6-1, 6-2.
In the No. 4 spot, Angelica Ceja, freshly promoted from the JV squad, was a bright spot for Sunnyside, easily defeating Jovannah Gudino in two sets, 6-0, 6-1.
Sunnyside will be headed to Pasco tomorrow (Saturday).