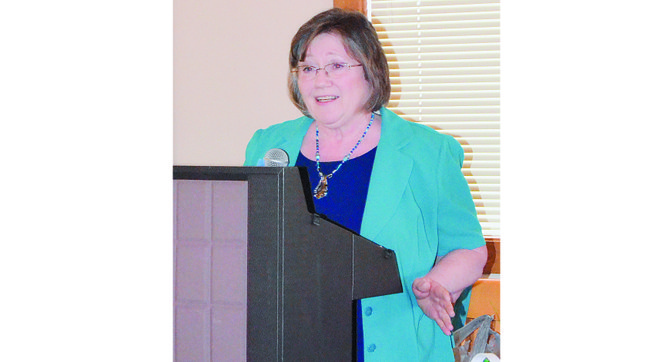 As a judge, municipal court administrator and mother, Debbie Mendoza feels her life is full of blessings great and small.
Speaking to those in attendance at last Thursday's Nouvella Club meeting at Sunnyside's Snipes Mountain Restaurant and Brewery, she shared some of her own struggles, as well as the blessings in her life.
Mendoza has worked in the court system for 35 years. She began her career after her first marriage ended, working for the Yakima County District Court in Sunnyside. When that court closed, she began working for the city of Sunnyside's municipal court.
She didn't stop there. In 1991, she took the non-attorney judicial exam to become a judge. That exam is no longer offered, but she passed and currently serves as the municipal court judge for the city of Zillah.
"If Zillah closes, I will no longer be able to serve as a judge…but, I plan to retire from that work in the near future," said Mendoza.
In her personal life there have been many tragedies and struggles. She has been married and divorced twice. She has two daughters and their father won custody of them when they were young. Three years ago, Mendoza had a brain tumor.
In spite of much tragedy, she said she likes to focus on the good things life has had to offer.
Mendoza said she likes to celebrate her children, grandchildren, the fact that she has a home and all the basics one needs in life. She said she has so many people in her life that make her "…feel lucky."
Sharing her personal life, she said, "Even if bad things happen to you, you can rise above it."
Mendoza said the same is true of those who appear in court.
She had a couple of stories of individuals who have turned their lives around after appearing before her.
One individual was in court, facing his fourth DUI conviction. Mendoza said he was prepared to plead guilty because he felt he would not be able to change.
She, however, wasn't willing to accept that and referred him to an attorney and ordered a professional evaluation.
When the man reappeared, he hadn't gone in for the evaluation. He was intoxicated and Mendoza chose to place him in jail.
"It just so happened he was in jail during the holidays," she said, stating the man did a lot of thinking while he was incarcerated.
Mendoza said he decided he wanted to change, so she allowed a deferred prosecution, which involves five years of a clean record, as well as treatment.
The man, she said, changed his life and when the five years expired he reappeared in court.
"He asked that his case be heard last," said Mendoza, stating the man and his wife thanked her for saving his life.
"He did it, not me…it was his decision," said Mendoza.
She followed that story with another about a 22-year-old with several convictions. She sentenced him for his crime, but told him he should write his life story. For every page in the story, she gave him credit for his sentence.
"He turned in 31 pages," said Mendoza, stating she released him from jail once the assignment was complete. She didn't hear from him right away, but a year later a relative informed Mendoza that the man had made positive changes in his life and was enrolled in a technical school.
A few years later, the man appeared at the municipal court window in Sunnyside, telling her how his sentence had changed him.
Again, Mendoza said it was about the choices the man made for himself.
Stories like these, however, make her grateful for the work she does. She said she is pleased to be a part of something that matters in the lives of others.
"We all make mistakes…we all have things happen in our lives…we can all rise above it."