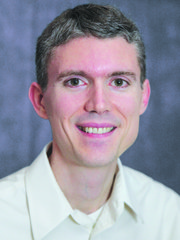 Sunnyside Community Hospital now employs Dr. Lincoln Westfall, a family physician and obstetrician, at its Lincoln Avenue Family Medicine clinic, located at 803 E. Lincoln Ave. in Sunnyside.

For the past three years Dr. Westfall practiced as the only family physician in Wapato before coming to Sunnyside Community Hospital. Now, he looks forward to bringing his experiences and skill set to help individuals and families in Sunnyside and throughout the entire Yakima Valley.
"I love seeing my patients and their families through all stages of life, and am dedicated to providing the highest quality care in a friendly, professional manner," Dr. Westfall said.
Dr. Westfall graduated from the original osteopathic medical school in Kirksville, Mo., trained in the rural family medicine residency in Colville, Wa. and is fluent in English, Spanish, Russian and German.
He is board-certified in family medicine, and his services include obstetrics, women's health and procedures, osteopathic manipulative therapy, chronic disease management, gastrointestinal endoscopy, including colonoscopy, as well as preventive medicine, natural diet and lifestyle counseling.
He is currently accepting new patients and is available for same-day appointments.
Sunnyside Community Hospital & Clinics' mission is to provide comprehensive quality care to the region. For more information regarding the services provided at Lincoln Avenue Family Medicine, visit: www.sunnysidehospital.org or to make an appointment with Dr. Westfall, call the clinic at (509) 837-6911.