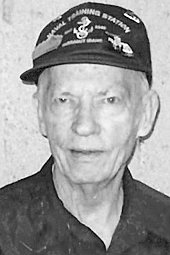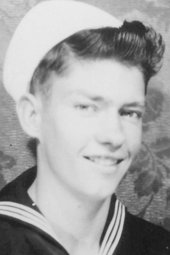 Kenneth (Ken) L. Kearney, 88, of Sunnyside passed away on Saturday, March 22, 2014.
He was born Dec. 20, 1925, in Emerson, Neb., to Frank Kearney and Ruby Dobbs.
He moved with his family at age three to Absarokee, Mont., and then later moved to Columbus, Mont., where he attended a one-room school on Shane Creek. He remembers the horse, Nellie, taking all the kids home on her back through snowstorms and only the horse knew the way.
He later rode 10 miles in the back of a pickup to go to Columbus High School, where he took an early graduation and enlisted in the U.S. Navy in December 1943.
During World War II, he took basic training at Farragut Naval Base in north Idaho, then trained as a radio operator in Boulder, Colo. He was stationed in the South Pacific aboard the flattop carrier, the U.S.S. Casablanca, as a radio man using the Morse code. He also was a prize fighter boxer aboard the ship.
Ken's family left Montana, while he was in the service and settled in the Yakima Valley, where he also settled upon his return from the military.
In 1952, Ken met and married Shirley Post, together they raised five children.
He was employed at Marathon Corp. for 37 years, and upon retirement had missed only four days of work. He was actively involved as a union steward.
He was a member of the Sunnyside VFW and served as an honor guard for many years.
Ken is survived by his
wife, Shirley of Sunnyside; four daughters, Colleen (Jerry) Flowers of Rathdrum, Idaho, Marcy (Dale) Firestone of Spokane, Lory (Don) Peterson of Sidney, Mont. and Kaylene Kearney of Tri-Cities; six grandchildren, Joshua Felker, Tristan and Cavin Firestone, Hillary Main, Frank Kearney and Colton Presley; two great-grandchildren, Ryden Firestone and Jordan Main; four sisters, Bonnie Taylor, Marylou Schut Ribail, Ethel Porter and Gerry (Clayton) Klippert; sister-in-law, Leona Kearney; and numerous nieces and nephews.
He was preceded in death by his son, Steve Kearney; one brother, Duane Kearney; and one sister, Virginia Pease.
A viewing will be held Friday, March 28, 2014, from 9 a.m. to noon at Valley Hills Funeral Home, 531 S. 16th St., Sunnyside, with a memorial following at 1 p.m. at VFW Hall, 615 N. Ave. in Sunnyside.
Memorials may be made to Sunnyside Honor Guard or Union Gospel Mission.
Please visit Ken's online memorial and sign his guest book at www.valleyhillsfh.com.
Valley Hills Funeral Home in Sunnyside is care of arrangements.
More like this story