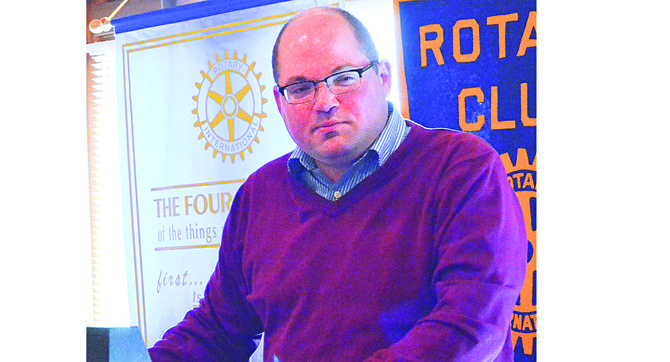 The local PBS station in Yakima, KYVE, gets approximately 76 percent of its funding from community support.
That's according to Station Manager Ryan Rodruck, formally a member of Congressman Doc Hastings' staff.
Monday, he spoke to members of Sunnyside's Noon Rotary Club about the station's history and its efforts to provide programming that appeals to Central Washington viewers.
Rodruck said the station has been in operation since 1964. Its public programming license is currently owned by Seattle's KCTS.
"So we are in a partnership…viewers see both their programming and ours," he said.
Through the partnership, the Yakima station is able to reach approximately 3 million viewers.
"We are a community-supported station," said Rodruck.
He said only about 10 percent of the station's funding comes from federal grant support.
"The statement about viewers like you supporting the station is true," said Rodruck.
He said approximately 90 percent of television viewers tune in to public television programs at least once a week.
PBS is the number one children's media brand, according to Rodruck. He said approximately 99 percent of the nation's children watch its television programs or take advantage of online products created by PBS, such as PBS Learning Media.
The online products are educationally beneficial to young children. Rodruck provided an example of that, telling the Rotarians about a young mother who recently called him to share her child's story.
The young mother, he said, has a kindergarten student who was having difficulty in school. The mother took the youngster to the library and introduced the child to the PBS Learning Media programs on the computer there. The child's test scores rose and she is no longer having difficulty in school.
Success is not limited to the programs offered to children, though.
Rodruck said PBS provides approximately 480 hours of arts and cultural programs for its viewers each year. That programming is popular among viewers like a 90-year-old veteran who recently phoned Rodruck to thank him for bringing travel, arts and culture to his living room.
"We hear from our viewers…they call us with questions and suggestions, giving us input," he said.
KYVE also has three local news magazine programs. They include Showcase Central Washington, Insider's Roundtable and CWU On Stage.
Showcase Central Washington, said Rodruck, highlights Central Washington and stories that directly impact the region.
Insider's Roundtable is a program that takes a look at local issues.
CWU On Stage is a program that focuses on Central Washington University's music and arts programs. It primarily features concert performances.
Rodruck said the local programs allow his team to work on in-depth stories that interest viewers in Central Washington.
"With traditional television media, the maximum story length is about three minutes," he said.
When asked about KYVE's annual budget, Rodruck said the station is sustainable with a budget of approximately $400,000. KCTS, however, has a budget of approximately $18 million.