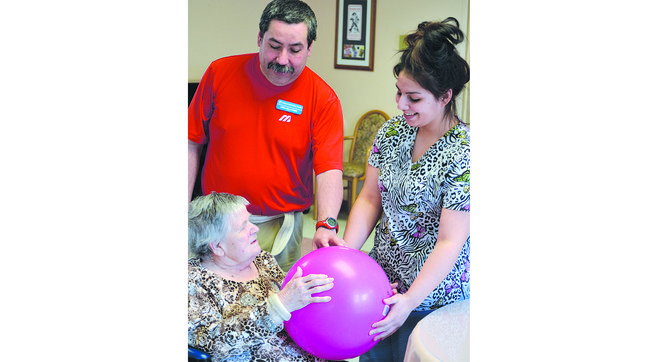 GRANDVIEW – "Great hearts and great systems!" is how Harry Aubert describes the keys to improvements at Prestige Care & Rehabilitation in Grandview.
Those improvements led to a pair of recent honors for the Grandview site. One was a deficiency-free survey conducted by the Centers for Medicare and Medicaid Services along with the state's Department of Social and Health Services.
Inspectors check facilities in 15 different areas, ranging from medication management to hygiene.
"A perfect survey is very rare," says Aubert, administrator for Prestige Care in Grandview. "I have friends who have been doing this for 30 years and they've never seen one."
According to federal data from 2012, less than 10 percent of nursing/rehabilitation facilities nationwide earn a deficiency-free designation.
Perfection was a first for Aubert and his crew at Grandview. On top of that, his location also received a five-star rating from the Centers for Medicare and Medicaid Services for its continued excellence in patient care.
The rating is determined by a number of factors, including patient safety, past health inspection results, caregiver and staffing data and various other quality measures.
Grandview met and exceeded quality and safety measures across 180 regulatory standards to receive the five-star rating.
"We are both proud and humbled by the recent accolades we've received here at Grandview," said Aubert. "With every patient we serve, we strive to provide the highest quality care possible by treating them as if they were our own family."
And that's where those "great hearts" among his employees are so important.
"We have a special group of people here," says Aubert. He says workers at Prestige Care tend to residents afflicted with various stages of dementia as well as Alzheimers.
That creates unique challenges in tending to those who are active, but unable to care for themselves.
"We act on their behalf to help them retain a sense of who they were," said Aubert.
The "great systems" at Prestige Care in Grandview include every drug administered and maintaining data on residents requiring two helpers versus one helper.
Aubert says the Grandview center has experienced success in helping residents gradually reduce dosages of some prescription medications.
He says gradually reducing dosages allows residents suffering from dementia to be more themselves instead of altered or subdued by medication.
That, in turn, requires those "great hearts" to be more alert, as residents may need increased monitoring.
"It takes a compassionate individual with an open heart," he says of Prestige employees.