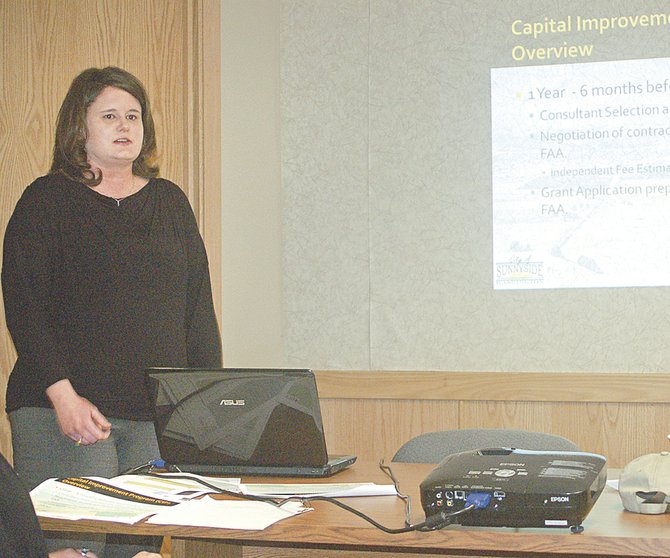 To widen the runway or extend the runway, those are among the choices the Sunnyside Municipal Airport Advisory Board will be making in the next several months.
In addition, the board is working with the city to create a new chapter in the Sunnyside Municipal Code focused solely on airport use and regulations.
"We have our homework before us," said Larry Dolan, the airport advisory board chairman.
Meeting Tuesday night at the Sunnyside Port District offices, the airport advisory board reviewed its five-year master plan for improvements and enhancements of the city airport, learning it may not have to widen the existing runway.
"The FFA has determined that the current runway meets its criteria for width," said Stephanie J. Ray, a civil engineer with Huibregtse, Louman Associates, Inc. of Yakima.
Ray presented the review of the airport capital improvement projects, suggesting since the city doesn't need to widen the runway, it should take a look at reviewing the other projects in its plan.
Among the suggestions Ray made was to consider rehabilitation of the taxiway surface and to relocate it.
She also said there are a number of state and federal grants available to the city in order to complete the planned airport improvements, which have been broken down into several phases.
The funding plans for 2016 need to be made by October in order to be available for the airport taxiway rehabilitation project.
Currently the city has $413,751 of the necessary $2,271,249 needed to complete the project.
Board members asked about available funding for extending the runway.
"By extending the runway we would be a more attractive landing place for larger airplanes, like Lear and King Air jets," said board member Gary Pira, who noted that larger aircraft isn't always able to land in Sunnyside because of the length of the runway. In addition, it would make the airport more attractive for air ambulances and other air travel, he added.
Ray suggested the question of lengthening the runway be taken up with the FAA board.
"I think it may be agreeable to this suggestion," she said.
Sunnyside City Manager Don Day said city staff will be looking into that possibility in the near future.

In other business, Sunnyside City Mayor Jim Restucci presented a draft copy of the proposed city code chapter regarding the municipal airport. The draft includes all aspects of the special concerns regarding airport use, safety, users and emergency procedures, as well as conduct of pilots.
The advisory board will review the draft code and report back its finding at the April 15 advisory board meeting. The board will then make its recommendations to the city council for adoption into the city code.