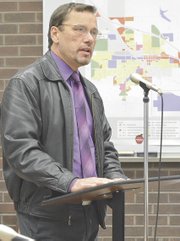 GRANDVIEW – Each year John Cooper, president and CEO of Yakima Valley Tourism, visits the Grandview City Council to deliver the organization's annual report.
Last night (Tuesday) he presented the report for 2013, noting the organization's name change.
Cooper said the organization changed its name from Yakima Valley Visitors and Convention Bureau because the new name, Yakima Valley Tourism, simplifies the organization's role.
He said there were times when speaking to others that there was confusion.
"All they heard was bureau," said Cooper, joking that others sometimes believed he was with a government agency.
Cooper said the tourism industry in Yakima County is about $354 million strong.
"When bringing visitors to the valley, it's like importing temporary taxpayers," he said.
More than 3,500 jobs are supported by the industry and another 1,400 jobs in other industries benefit from tourism activity, according to Cooper.
He said it is important to develop products and maintain relationships in the industry to promote economic development and facilitate business development in the Yakima Valley.
Representatives of Yakima Valley Tourism last year visited eight trade shows to market the Yakima Valley.
Directly impacting Grandview was the promotion of Yakima Valley Vintners and a blog promotion of Bill's Berry Farm.
Cooper said, "2013 was a successful year."