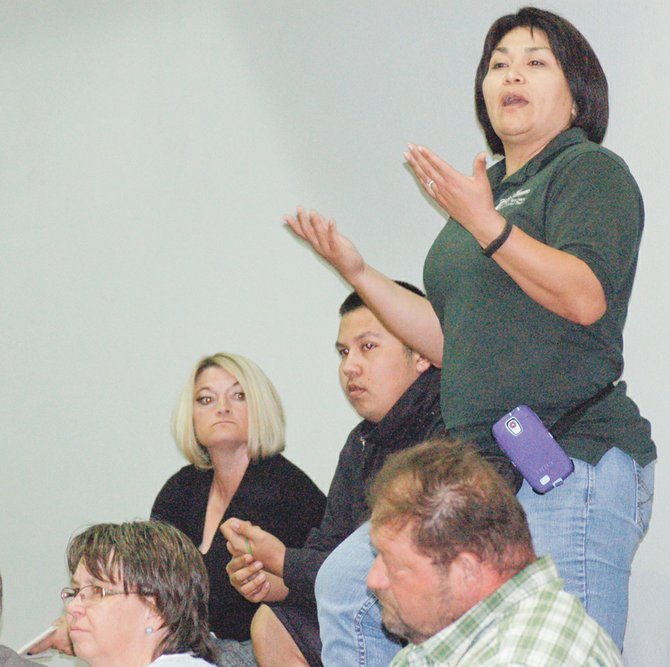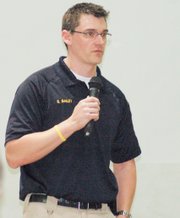 Sunnyside's first town hall meeting under the city's new administrative leadership was well attended last night and generated a lot of comments and uncomfortable questions.
The gathering held at the Sunnyside Community Center gave Sunnyside citizens an opportunity to ask such questions as "why aren't there more Hispanics on the city's citizen-led commissions?"
"Are traffic stops in the community profile-driven, according to ethnicity?"

And, "…when will we get a new police chief," asked Pastor Rosalinda Vasquez.
"Very soon," said Sunnyside City Manager Don Day, adding he has received 18 applications for the top police department job.
"We have narrowed the field to five applications, and will hold a reception this coming Tuesday night for the public to meet the candidates," he said.

On Wednesday, April 2, Day and a panel of city officials, area law enforcement representatives and citizens will be on the panel to interview the candidates.
The top two candidates will then undergo a polygraph test, before the number one candidate is announced, Day explained.
In answer to the first question, Day responded by saying there are currently several vacancies on several commissions, including two on the city's Parks and Recreation Commission.
"All you have to do is apply and Mayor Jim Restucci will contact you if you are to be appointed," said Day.
"It might take several tries before you are appointed," said Parks and Recreation Commissioner Bob Sarmiento, who said he tried seven times before being appointed to his current position.
"But I didn't volunteer because I am Hispanic. I did it because I am interested in providing activities for our community's youth," he said.
As to the question of racial profiling motorists, Sunnyside Police Officer Sgt. Scott Bailey said "absolutely not.
"Officers must have probable cause to make traffic stops," Bailey said. "Our job is to protect and serve.
"We all have to play by the same rules," he added.
"But if you think a stop has been made for other reasons, you should file a complaint with the department," Bailey said.
"In fact," said Interim Director of Police Services Larry Dickerson, "we have dedicated ourselves to investigating every complaint which is submitted to the department."
Additionally, he promised that citizens with complaints don't have to come into the police station to report a complaint. "You can email or call in your concerns without leaving your name," he said.
And he promised, "We will get back to you with a response to your questions."
Dickerson said he and the city's future police chief will be sensitive to the needs of the community.
Dickerson said the department's website has a new complaint form which is less intimidating that the old one, available in English and in Spanish.

Dickerson said all complaints will be signed off by the chief.
"We are changing the whole process and we won't be blowing people off," he said.
Mary Mora, a school volunteer, said she is very concerned about the risks facing middle school and high school children in the community. "We want our officers to respect, not fear our youth, and our youth to respect and not fear the police," she said through an interpreter.
Among the town hall audience was John Salazar, who raised questions about his treatment by police following his 2012 arrest. Among his complaints was the issue of being mistreated by officers while being interrogated.
"I was in jail for 17 days without having contact with my family. I wasn't allowed a phone call," he said of his ordeal.
Salazar said he was convicted of the crime, but his treatment leading up to the convictions makes it hard to trust the police.
"This issue is not resolved for me," Salazar said.
Day, saying he is aware of Salazar's concerns, said he will work to find some answers for Salazar.
Longtime city resident Ezequiel Olmeda thanked the city for hosting the town hall meeting, saying through an interpreter that he is happy to see people stepping up and showing who they are.
"We all have a lot of questions," Olmeda said. "We have started getting answers little by little, but I am very grateful this is going on.
"We all need to come together as one," Olmeda said, asking "…what is your plan to help us get to know you better?"
"It is my intention to meet as many of you as I can. I want to hold more town hall meetings, like this one," said Day, adding he intends to shake the hands of each person he meets.
Among the city manager's plans are to hold more town hall meetings, block parties or barbecues to increase the visibility of his staff and that of the police department.
One of his plans announced last night is to offer a 10-week citizen's academy in English and in Spanish to give the residents the opportunity to understand the state and city laws and law enforcement practices.
"We would like to hold two police academies a year," added Dickerson.
He also encouraged those present to consider doing a police patrol ride along.
"The goal is to educate as many people as possible about law enforcement," Dickerson explained.
Day said he also plans to promote and expand the National Night Out programs held each August in the city.