Over the Shoulder
A look back in time from the files of the Sunnyside Daily Sun News and Sunnyside Sun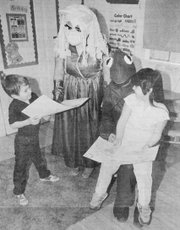 110 YEARS AGO…(1904)
J.C. Sanger, former cashier of the Sunnyside bank, was working with S.J. Harrison, S.P. Flower, T.S. Phillips, Jas. Humphrey, William LeMay and others to start a bank in Mabton.
John W. Brown of Connecticut came to Sunnyside to deliver a lecture "On the Triumph of Socialism" at the International Order of Odd Fellows Hall.
The Sunnyside school received a new bell that was installed by H.W. Holloway.
100 YEARS AGO…(1914)
Paul Wise was suffering from a serious illness, so Burton Wheelon substituted for him in the senior class play in Sunnyside. Also performing were Floyd Kostenbader, Mark Austin, Will Stanton, Ray Chambers, Fletcher Milton, Bessie Glenn, Maud Ellis, Marion Henderson, Hazel Slaght, Evelyn Mahaffy and Ruth Duncan.
A debate contest was held for Sunnyside youth at the congregational church. Rachel Russ earned top honors with her speech on "The volunteer organist" and Agnes Golob won a medal for "The stray sunbeam."
90 YEARS AGO…(1924)
Carrol Huber of Sunnyside broke a rib when he fell off a carload of lumber. Huber was on top of the load, loosening a stake. When he threw the stake off the side a spike caught in his coat and pulled him to the ground.
80 YEARS AGO…(1934)
Beryl Hawkins of Sunnyside nearly drowned when the 5-year-old fell into a drop box while her mother was visiting the Thompson home. Hawkins' screams were heard by Jerry Thompson, who alerted the adults.
A troop of 26 Boy Scouts accompanied by Noble Johnson, F.D. Mack and Austin Miller Jr. took a camping trip below the ferry at Richland.
70 YEARS AGO…(1944)
A youth program aimed at curbing juvenile delinquency was held at the new Sunnyside recreation hall. Ted Haney was master of ceremonies and several local children, including Warren Crowe, Lois Lanegar, John Amundson, Donna Beck and Jim Myers, participated in a one-act play.
Mrs. T.W. Denson of Sunnyside learned that her brother, James Barland, had survived seven days on a rubber raft about 600 miles off the coast of Iceland. Barland had been on combat duty for 22 months and had previously been shot down over England.
60 YEARS AGO…(1954)
Harold Neimeyer, 10, of Sunnyside was released from the hospital after being treated for a bullet wound. Neimeyer was out hunting magpies with Earl Hanson when Hanson's gun accidentally discharged, hitting Neimeyer in both legs.
50 YEARS AGO…(1964)
Peggy Bryant, a 10-year-old living in Sunnyside, received a letter from President Kennedy's widow, along with a signed photo of her husband. Bryant had written a sympathy letter to Jacqueline Kennedy soon after the President's assassination.
Sunnyside High School hosted an FFA jamboree with about 300 attendees. Earl Cullen of SHS won the dairy judging contest.
40 YEARS AGO…(1974)
Sunnyside resident Edith Conklin removed her name from a lawsuit attempting to block the construction of I-82. Conklin originally opposed the highway because the route was slated to cross her property south of Sunnyside.
30 YEARS AGO…(1984)
The Valley Musical Comedy Company staged a production of "Finian's Rainbow," directed by Jack Quinn and starring Dick Garratt and Jay Sandlin.
20 YEARS AGO…(1994)
Selah Congressman Jay Inslee sponsored a town hall meeting in Sunnyside to get local opinions on the welfare system and health care.
Cowboy Buck and his deputy presented an anti-drug message at Chief Kamiakin Elementary School as part of drug and alcohol awareness week in the Sunnyside School District.
10 YEARS AGO…(2004)
For the second year in a row, a photograph taken by amateur photographer Teresa Kollmar was selected for the cover of the Lower Valley phone book published by Hagadon Directories.
Foundation work was started on a new Sunnyside hotel being built near the historic barn along Waneta Road. The opening of the Best Western, owned by Tom Denlea, was planned for July.