RELIGIOUS REFLECTIONS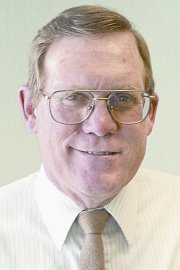 There has been a lot of discussion lately about the sale of marijuana in the Yakima Valley.
Even the Sunnyside Ministerial Association has been approached about making a statement or taking a public stand. Whether they do or do not, I do not feel will make a whole lot of difference on the general public in the end.
In fact, perhaps we are starting at the wrong end.
One of the main concerns about the use of marijuana is the effect that it can have on our youth. Our youth, we are told, should not use it, because it dumbs down the brain. If it dumbs down the brain, why then is it alright for adults to use it?
Well, this is supposed to be a religious reflection, isn't it. What does the above paragraph have to do with religion? Let's start with Deuteronomy chapter 6.
"6 These words, which I am commanding you today, shall be on your heart. 7 You shall teach them diligently to your sons and shall talk of them when you sit in your house and when you walk by the way and when you lie down and when you rise up." . . . 24 So the Lord commanded us to observe all these statutes, to fear the Lord our God for our good always and for our survival, as it is today. 25 It will be righteousness for us if we are careful to observe all this commandment before the Lord our God, just as He commanded us."
It is very evident from the above passage that education begins in the home. And if the parents are faithful in instructing their children by precept and example, the chances of their children growing up to be responsible, healthy, productive citizens is greatly increased.
Proverbs 22:6 says "Train up a child in the way he should go, Even when he is old he will not depart from it."
The education concerning the use of harmful substances, i.e., pot, alcohol, tobacco, etc. should start and continue with the parents.
However, the problem we face concerning drug education is that most of the parents of children who use these drugs use them, themselves. They do not take seriously God's counsel that our bodies are the temples of God, I Corinthians 3:16.
We as adults are responsible to God for the care of our bodies as well as those of our children. We need to be examples of how we should live and what we should and should not put in our mouths.
Children will do what we model more than what we say. See Philippians 3:17; Titus 2:6,7; James 1:22.
So we say, do not use pot or harmful substances; then we turn around and drink alcohol (wine, beer etc.) socially and even build our economy on it. We might say one message, but live another.
Kids can see right through our hypocrisy. So if we want to give our kids a sincere message about substance abuse, our example will be a stronger deterrent than our words or our laws.
The solution to the problem lies with us, and our behavior, rather than what we say or the rules and laws we make.
Look at the laws we already have concerning underage drinking. How has that worked for us? Perhaps we should think of doing things God's way rather than our own.
What do you think? Isaiah 55:6 -11
‑ Rev. Larry D. Mays is pastor of the Sunnyside Seventh-day Adventist Church