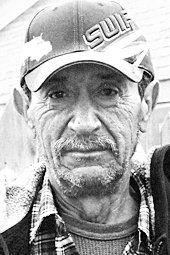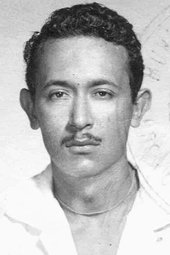 Gabriel Benitez, 70, of Sunnyside passed away Wednesday, March 26, 2014 at Sunnyside Community Hospital after losing his battle to lung cancer. Gabriel was born April 18, 1943 in Coahuayana de Hidalgo, Michoacan Mexico to Jose Maria Benitez and Mariana Acevedo.
Gabriel was a soldier in Mexico of the S.M.N. and completed basic military instruction in 9/0 Batallon del S.M.N.
Gabriel married Maria Benitez Jan. 26, 1963 in Coahuayana de Hidalgo, Michoacan. They moved to Sunnyside in 1976. Gabriel and his wife worked in agricultural, labor work. He enjoyed cutting asparagus, picking cherries and picking apples. He also pruned fruit trees during the winter time.
Gabriel also loved working in his vegetable garden. He loved teasing and taunting his friends as well as family members. He was funny and loved joking around, even in his last days. He liked going to Legends Casino and playing in the slot machines. His favorite machine was the monkey slot. He loved his life and did what he felt was right. My dad was a GREAT MAN. He was a Catholic man and loved reading scriptures from the bible.
Gabriel is survived by his wife Maria L. Benitez of 51 years, his eight children; Juan Benitez (Maria) of Sunnyside, Victor Benitez (Juana) of Grandview, Luisa Gurrola (Mario) of Sunnyside, Mario Benitez of Sunnyside, Angel Benitez (Lidia) of Maricopa, Ariz., Mariana Garcia (Armando) of Sunnyside, Emma Benitez and David Benitez of Sunnyside; two sisters, Ramona Castilla of Grandview and Juana Benitez of Mexico; two brothers, Manuel Benitez of Grandview and Rafael Benitez (Lucia) of Mexico; 15 grandchildren, Rosio, Andrea, Guillermo, Damian, Diego, Leticia, Susana, Paulina Lizette, Marcos, Daniel, Cecilia Gabriela, Dianna, Angel Jr., Samuel and Yoselyn; four great-grandchildren Julian, Natalia, Luis Enrique and Shaila; and numerous nieces, nephews, cousins and many friends.
He was preceded in death by his father Jose Maria Benitez, mother Mariana Acevedo, brothers Jose Maria Jr. and Miguel, sister Mariana Benitez, sister-in-law Eva Benitez, grandson Pablo Benitez and also his nephews Martin Garcia and Jose Benitez and his great-great nephew Evan Gallegos.
Viewing and visitation will be held Sunday, March 30, 2014 from 2 to 8 p.m. with a recitation of the Holy Rosary at 6 p.m. at the Smith Funeral Home Chapel in Sunnyside. A Mass of Christian Burial will be held on Monday, March 31, 2014 at 10 a.m. at the St. Joseph Catholic Church in Sunnyside with burial to follow at Lower Valley Memorial Gardens in Sunnyside. Those wishing to sign Gabriel's online memorial book may do so at www.funeralhomesmith.com Smith Funeral Homes Ltd. in charge of arrangements.
More like this story