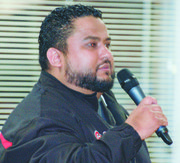 Thursday night, the Sunnyside School Board of Education approved the hiring of Eva Gonzalez as a para educator at Pioneer Elementary School; Sara Thomas as a trainer; Sandra Benitez, Cheryl Engel, Dawn Grigsby-Canales, Enrique Puente, Brigid Smith, Gabriel Tobias, Britney Voight and Karen Walker as before/after school teachers at Sierra Vista; Daniel Licona as assistant boys soccer coach at Sunnyside High School; Gilbert Briones as assistant baseball coach at SHS; Jonathan Knight as assistant track coach at SHS; and Juana Juarez and Sherry Castilleja as substitute secretaries.
The board also approved the hiring of Mara Zieske as a media specialist, Emily Rittenhouse as a LAC teacher and Frank Mendez as a bus driver for the next school year.
The board also approved the resignations of Rodney Coder as an event custodian and Suzanne Lockman as a kindergarten teacher.
The retirement requests of Sharrie Stevens as a para educator, Kristi Rhodes-Land as a LAC teacher, Judy Stone as a third grade teacher, Graciela Bravo-Black as a high school teacher, Susan Clift as a cook and Henry Ebbelaar as a bus driver were also approved last night by the board.