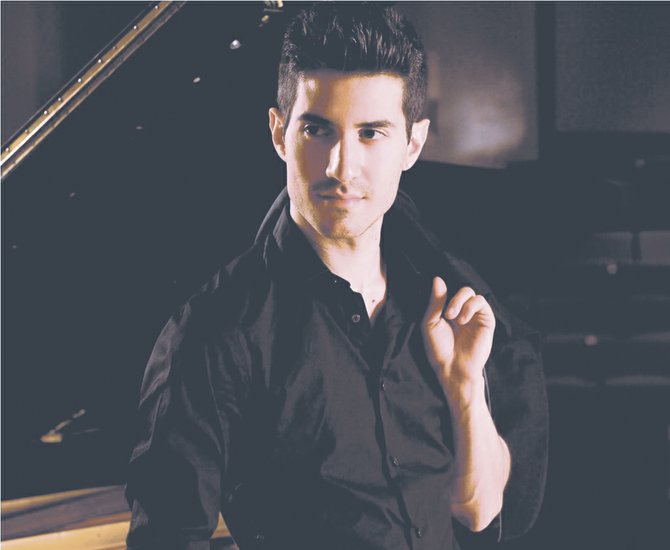 Hailed by the New York Times as "romantic with a cool edge," pianist Andy Feldbau is a rising star on the world stage. He brings his talent to the Sunnyside High School auditorium on Thursday, April 10, at 7:30 p.m.
Tickets for this performance are $30 (single) and $5 (students).
The Lower Valley Community Concert Association is also sponsoring a student outreach performance by Feldbau as part of its ongoing commitment to support arts education in the community.
Feldbau is a recent graduate of the Buchman-Mehta (Tel Aviv) and Julliard (New York) schools of music, and was a first prize winner in the American Protégé International Piano Competition. He has presented solo recitals at Carnegie Hall (New York), the Ford Theatre (Los Angeles), Steinway Hall (London) and Museum of Arts (Tel Aviv). Feldbau is also an aspiring composer, creating arrangements and compositions for a variety of configurations, including a virtuosic piano arrangement of "A Whole New World" from Disney's Aladdin. His program features classic pillars of the piano literature, including the "Mephisto Waltz No. 1" (Liszt) and Earl Wild's ever-popular "Seven Virtuoso Etudes on Gershwin Songs."
2014-15 season tickets to the Lower Valley Community Concert Association series will go on sale April 5; early-bird pricing for the five-concert line-up is $50 (adults), $115 (families) and $15 (students), available through May 31.
For more information call (509) 839-5222 or visit the Lower Valley Community Concert Association online at www.lowervalleyconcerts.org.