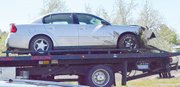 Sunnyside police responded yesterday morning to a burglary report in the 1400 block of South Seventh Street. The victim reported that damage had been done by someone attempting to break into a vacant home being prepared for resell.
Another burglary was reported to police yesterday afternoon from the 500 block of McClain Drive. The victim reported that computer parts had been stolen in the break-in.
Police are also investigating a report of shoplifting in the 600 block of South Sixth Street last night. Two male suspects reportedly walked out of a store with a bottle of alcohol.
Since yesterday morning police have also responded to four reports of animal problems, a report of a fight, a dispute between citizens, three domestic calls, two reports of harassment, two reports of juvenile problems, eight traffic incidents, a report of a runaway, two reports of suspicious activity and a report of trespassing.
Police also made contact with a local business, provided assistance to an outside agency, handled two requests for assistance from citizens, served an arrest warrant, fielded five informational calls and conducted five welfare checks yesterday.