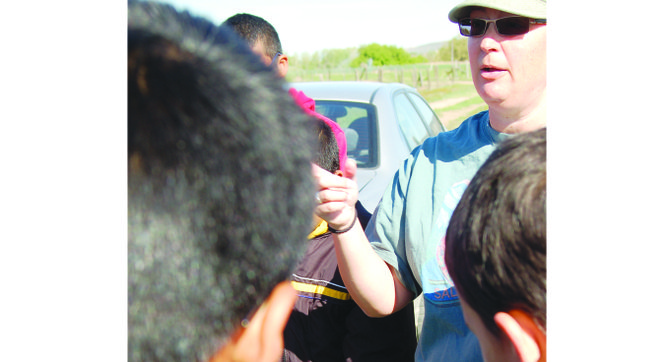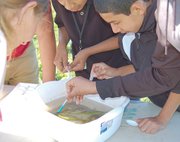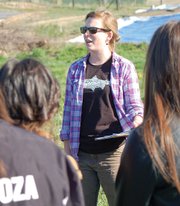 A group of students from Granger Middle School visited Sunnyside's Heavenly Hills Harvest Farm to learn more about the habitat that they have put work into restoring.
The project has been ongoing for a few years and involves portions of the farm near the Yakima River where erosion is a danger. A partnership between the farm, the Yakima Basin Environmental Education Project and Mid-Columbia Fisheries Enhancement Group has resulted in student groups from Granger and Sunnyside planting native trees and shrubs along the river bank.
Tuesday morning, a group of seventh grade students that planted trees last fall came back to see how the trees are doing and to learn more about how their work is impacting the area.
The students learned about the Yakima River watershed and how normal activities, including fertilizing a lawn, can impact rivers and streams. A small model of waterways showed how the pollution moves downstream.
Tiffany Bishop of the Yakima Basin Environmental Education Project dropped different "pollutants" into areas of the model and used a spray bottle to simulate rain. The students noted that it sometimes took a while for the pollution to reach the main river on the model, but it always did.
Students also had a biology lesson, learning about macroinvertebrates, the food that fish eat. The presence of a lot of macroinvertebrates can indicate a healthy waterway, because many of the tiny creatures are unable to withstand even small amounts of pollution.
Another training session taught the students about erosion and its causes. Several activities gave students an idea of how plants can prevent erosion.
In one exercise, a handful of students were declared to be raindrops while the rest were trees. The trees, which were stationary, had to try to touch the raindrops as they passed. A raindrop that was touched needed to circle the tree that touched it three times before continuing.
The higher the number of trees, the longer the raindrops took to cross the field. The students made the connection that more vegetation meant water moves more slowly and is less likely to erode the ground.
Students also learned about how land animals can impact the habitat of fish. Some misconceptions about animals were corrected by Mel Babik of Mid-Columbia Fisheries, who conducted the training session.