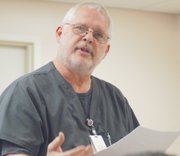 Did you know that your lungs are the heaviest organ in your body? Neither did most of the members of the Sunnyside Daybreak Rotary Club until Tom Anderson, Sunnyside Community Hospital's certified respiratory therapist, pointed that fact out to them.
They weigh 42 ounces. Speaking to the Rotarians this past Wednesday morning, Anderson said the right lung is actually two ounces heavier than the left lung.
The lungs can restore themselves, but it takes a long time. For some people the damages of exposure to environmental risks and smoking the recovery time will take too long to do them any good.
Blending humor with the seriousness of his occupation, Anderson shared the trauma of holding a neonatal baby in the palm of his hand, while trying to provide air to the tiny infant's under-developed lungs. He talked of how delicate the skin on premature babies is, by saying even a gentle touch can tear the fragile skin.
Anderson, who has 30 years in respiratory medicine, said he hates to be the guy to give people bad news about their lungs
"I see a lot of crappy stuff, and sometimes humor is the only thing that helps," he said.
Did you know that if you stretched out all the little fibers in your lungs, the material would take up half a tennis court?
Anderson said most men, for example, don't even know they have a lung problem until they can't climb that mountain they've always hiked up to in order to hunt from.
"Smoking two or three packs of cigarettes a day, for 20 or 30 years, is going to do some damage to the lungs," he said.
Anderson summed up his program by saying "…the best thing you can do for your lungs is to drink a lot of water, three- 12 ounce bottles a day, at least."
"Your lungs are filled with water and to work properly they must stay hydrated. Coffee and other beverages like carbonated drinks, only serve to dehydrate the body and your lungs need to stay moist," he said.