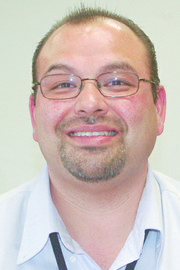 Javier Rios' first memories of his education involve attending classes at the local Head Start center as a preschooler.
"My parents were migrant farm workers and while we traveled a lot, the Head Start program gave me an opportunity to begin my early education," Rios said.
Today, Rios can relate to the parents of the children enrolled in the local early childhood learning program, working as a family community partnership coordinator for the Sunnyside-based program. Once called Head Start, the program is now called the Community Development Institute, Rios explained.
Rios has weathered the various name changes of the program, because the base programs are still all about promoting school readiness for children ages birth to five years of age. Rios continues to work as an advocate for the parents and children who attend classes at the North 16th Street center.
Rios gained his high school education at Sunnyside High School as a member of the class of 1993. He can still recall his family moves and of being a student in the Sunnyside School District's migrant seasonal high school where he was a student for three years. Following high school he volunteered at the Head Start program, later working as a pre-school teacher for children ages four and five.
"I worked on kindergarten readiness and like others, soon realized the key to a child's success was to involve the parents," he explained.
As a family community partnership coordinator Rios continues to build family relationships with community resources in order to benefit children's achievements, he explained. The coordination of resources has taken on a holistic approach to education, Rios noted.
"We try to create an umbrella of services, ranging from health care to mental, social and emotional development," he added.
For the past six years, Rios' role has been to extend the collaboration of resources and agencies for the parents in the Community Development Institute early childhood programs.
He said the Community Development Institute is dedicated to investing in children.
"We are dedicated to the idea that parents are the goal setters for their children and their children's first teacher."
More like this story