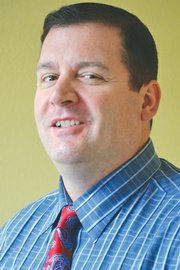 American West Bank didn't have to look far for a manager to head its Sunnyside branch, as Ryan Tudor was named to the post two months ago.
Tudor has a family wine grape farm in Grandview and has been in the banking industry for about 10 years.
Starting his banking career following service in the military, Tudor's previous experience includes working in commercial and consumer lending. "I like working with people and working with numbers," he said.
The desire to work with American West Bank, he says, came about because of its reputation in helping small businesses.
"Their whole focus is on small business, helping them grow," he adds. "And that helps the community."
Tudor says he also appreciates the bank's desire to give back to the community. Currently, that includes collecting money for food banks. "A lot of people don't realize that this time of year is when food banks are at their lowest (for supplies)," Tudor said.
In addition to supervising eight employees at the Sunnyside branch, Tudor also oversees two employees at American West's Mabton branch. "We have the same good relationship with the community there," he said.
Tudor says he's not looking to make major changes at American West.
"We want to continue with a positive approach," he said. "We've always been customer-driven, we're not a big-box bank."