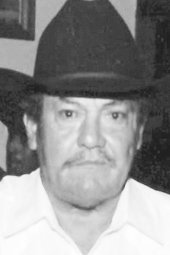 Paulino "Tavo" Gutierrez, 78, of Sunnyside passed away on Monday, May 5, 2014, in Sunnyside.
He was born Aug. 18, 1935 in McAllen, Texas to Jose and Rosalia Gutierrez.
"Tavo" enjoyed spending time with his sister, Santos and his children, barbecuing and listening to Tex-Mex music, hunting, fishing, gardening and pulling pranks.
"Tavo" was surrounded by family and many friends that loved him very much. He will be greatly missed.
Paulino is survived by his six children; Maria (Terry) Alaniz of Grandview, Gustavo (Gillermina) Gutierrez, Rosario Gutierrez and Robert Gutierrez, all of Yakima, Ricky Gutierrez and Adelina Gutierrez, both of Sunnyside; 11 grandchildren; 14 great-grandchildren: Lydia, Terry Junior, Tara, Jordan, Marlo, Ricky, Armando, Arnold, Steven, Brianna, Dana, Ashley, Tabitha, Daisy, Dasha, Julie, Joel, Cruz, Vicente Jr., Jaden, Kapri, Steven Jr., Isaiah, Lanae and Brooklyn; one brother, Vicente Gutierrez of Sunnyside; two sisters, Santos (Navario) Martinez of Sunnyside and Fabiana Perales of Yakima; and numerous nieces and nephews.
Paulino was preceded in death by his wife, Lydia Gutierrez; his parents, Jose and Rosalia Gutierrez; two sons, George Gutierrez and Arnold Gutierrez; and his brother-in-law, Nasario Martinez.
Viewing and visitation will be held Wednesday, May 7, 2014, from 4 to 8 p.m. at Valley Hills Funeral Home in Sunnyside. Services will be held Thursday, May 8, 2014, at 1 p.m. at Valley Hills Funeral Home in Sunnyside, followed by graveside services at Lower Valley Memorial Gardens in Sunnyside, with a reception to follow at Valley Hills Funeral Home in Sunnyside. Condolences can be sent to www.valleyhillsfh.com.
Valley Hills Funeral Home in Sunnyside is in care of all arrangements.
More like this story