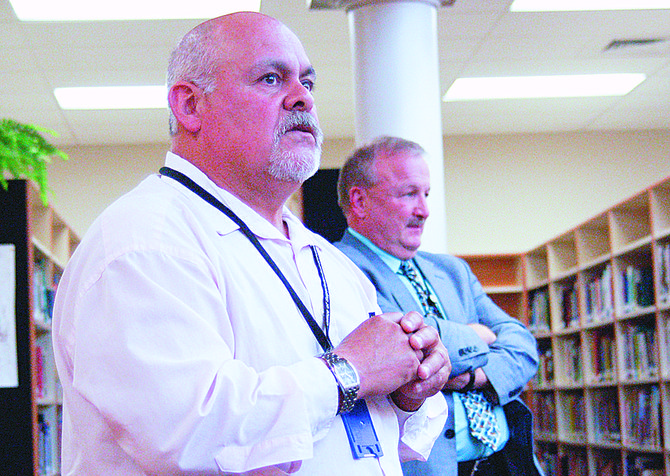 State's priority, focus lists
According to the Office of Superintendent of Public Instruction, schools are on the priority list if they meet any of the following criteria:
• Schools with a lower than 40 percent three-year proficiency in reading and math.
• Schools with a five-year graduation rate over the past three years that is less than 60 percent.
• Lowest performing schools based on the achievement index.
• Schools continuing as priority schools.
• The bottom 5 percent of persistently lowest achieving schools in reading and math over three years.
In addition to Sunnyside High School, Eagle High School in Toppenish is also on the state priority list, as are Grandview Middle School, Granger Middle School and Valley View Elementary School in Toppenish.
Added to the priority list this year were Kirkwood and Lincoln elementary schools in Toppenish, and Zillah Middle School.
To be placed on the state's focus list, schools must meet the following criteria:
• Schools with a five-year graduation rate of less than 60 percent over the last three years.
• The bottom 10 percent of schools, based on particular subgroup performances in reading and math. Those subgroups include English language learners and students with disabilities.
• Schools continuing as focus schools.
Harrison Middle School in Sunnyside is on the focus list, as is Toppenish Middle School and Zillah Intermediate School.
Added to the focus list this year were McClure Elementary School in Grandview, Outlook Elementary School in Sunnyside, Sierra Vista Middle School in Sunnyside and Garfield Elementary School in Toppenish.
How can a school with a graduation rate of more than 80 percent still be included on a list of the bottom 5 percent of schools in graduation rate?
That's what a large group of Sunnyside High School teachers were asking in a meeting at the school's library yesterday afternoon (Tuesday) after the Office of Superintendent of Public Instruction included the school on its annual list of priority schools released yesterday.
Gil Mendoza, the Assistant Superintendent for Special Programs and Federal Accountability for OSPI, said the reason is due to the formula the state set up, one that he said he personally disagrees with, that makes it very difficult for schools to get off the list.
Despite its recent success, Sunnyside High School's graduation rate from four years ago, the year the school first received its school improvement grant, is now preventing it from being removed from the list. The priority list is the result of legislation requiring the state to identify the bottom 5 percent of schools with the goal of giving those schools more assistance.
According to Mendoza, the high school was originally put on the priority list because its graduation rate was lower than 60 percent. Once on it, the school had to remain on the list for at least three years, a mark it has already passed.
The problem for Sunnyside is that getting off the list requires different criteria, including a graduation rate that increases by a specific amount, based on previous graduation rates, over a period of at least three years.
Mendoza said this is the school's annual measurable objective target, one it missed by only 0.4 percent a few years ago.
"What I've seen Sunnyside do is short of spectacular, if not spectacular," Mendoza said. "You guys are doing phenomenal work. What got you was the formula for meeting your target."
Sunnyside's graduation rate has been above 60 percent for the last few years, with a five-year graduation rate of 80.3 percent for the 2012-13 school year, up from a 70.6 percent five-year graduation rate in the 2011-12 school year.
Mendoza explained the school did not increase its graduation rate enough between the 2009-10 and the 2010-11 school years.
Sunnyside High School Principal Ryan Maxwell said the missed target came down to literally a handful of students and a policy the district has embraced of giving equal support to every student in the district.
When students transfer into the district, regardless of their situation, they are included in Sunnyside High School's graduation rate. The district does not have an alternative high school, which means that all students are counted, even if they transfer in as a senior with no credits.
The result is that the school's five-year graduation rate falls, even if those students eventually graduate. They are counted against the district unless they graduate five years from when they are counted by OSPI as a ninth-grader. Maxwell said about five of these students dropped the school's graduation rate enough to keep it on the state's priority list.
"We track all students when they start high school," said Mendoza. "They become yours if they transfer into your district before they graduate. We give them five years to graduate."
Sunnyside appealed the decision when they learned about it two weeks ago, but the appeal has been denied.
Some of the teachers argued that Sunnyside is being punished for not having an alternative school. Graduation rates at alternative schools are generally abysmal, according to information available on the OSPI website.
Sunnyside Superintendent Dr. Rick Cole said the staff at the high school made a conscious choice to make sure all students count and have an equal chance at graduation. It is a choice the teachers do not regret.
"Sunnyside supports its students so much that we will take a black mark from OSPI in order to give them the best education we can," said teacher Nick Paulakis to much applause.
But the choice does mean that Sunnyside is on the priority list for another year despite having a very good graduation rate for a high school and an excellent graduation rate as a district.
Mendoza acknowledged that the school probably should not be on the list, but said the rules were put in place before he took his position.
He said that because the state has not been given the authority to use its waiver for next year, the entire system will be reverting back to the previous rules that were dictated by No Child Left Behind.
He said the state will continue to use some of the standards developed under the waiver, but he will review some rules, such as those governing when a school can get off the priority list.
In addition, the non-waiver rules will be looking at entire districts as well as individual schools, which should work out in Sunnyside's favor.
However, Mendoza also warned the teachers that the state will be identifying schools this year that are considered "failing" under No Child Left Behind. He warned that the rules are extremely strict, with 37 different cells, or checklists, that schools are judged on.
"You can be strong in 36 cells and weak in one and you are considered a failing school," he said.
Teachers were not satisfied with Mendoza's answers. They told him that leaving Sunnyside on the priority list sends the wrong message to the community and to the students. Mendoza suggested that teachers alter the message.
Sunnyside High School's success has been noted by the state. This week Gov. Jay Inslee invited officials from the school district to Olympia to talk about how the school accomplished its increased graduation rate.