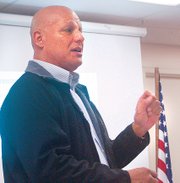 After a year of hosting the Sunnyside Farmers Market, Sunnyside Transformation Yakima Valley, the local sponsor, and its farmers market board of directors decided to call in help to evaluate the past season's successes and failures.
"What we found is that we needed to make some changes," said Eric Placzek, a board spokesman.
So this year, instead of re-opening the farmers market at the old U&I Sugar plant location on East Lincoln Avenue, the market will open on Saturday, May 17, in downtown Sunnyside.
"We discovered we had visibility, but we needed a way to get the cars to stop and people to get out and to visit our vendors, explained Roberto Matus, Sunnyside Transformation Yakima Valley director.
The local farmers board, after seeking out the help of a WSU Kittitas County Extension Service representative and a member of the Washington State Farmers Market Association to offer a review of the group's market plan, Sunnyside Transformation Yakima Valley agreed to move the one-day event to South Fifth Street, near Central Park, along the bronze statues pathway.
Speaking to the Sunnyside Daybreak Rotarians this morning, Wednesday, Matus explained the new plan is to work more closely with the community to meet its marketing needs.
"It's our aim to have a smaller location, with more foot traffic accessibility, and other businesses for additional shopping and meals within walking distance of the market," he said.

"Farmers markets can be useful to help revitalize downtown areas, improve local business, as well as become a source of income for the local farmers," Matus explained.
"What we learned is that our local small farmers are taking their fresh produce to larger areas, such as Spokane, Seattle and Portland, making the Lower Valley a food desert," Matus added.
"The local produce vendors want crowds," he said. "Shoppers want shade and areas where their children can play."
Matus said this year the farmers market will be open from 11 a.m. until 6 p.m. on Saturdays through October 4.
"Eventually we want to move into the Centennial Square next year," Matus said.
Now the farmers market board is seeking to increase its connection with area non-profits and civic organizations within the community.
"We want to attract their support to help bring people back down town. We want to make the farmers market a tourist attraction and a community event," he said.
"We feel together we have greater strength if we all work together and we'll make a greater impact on affecting change in our community," said Matus.