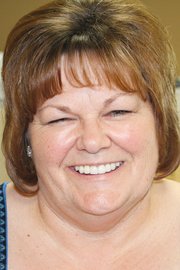 Age: N/A.
Spouse: Raul Casas Jr.
Children: Patricia and Brandon.
Occupation and place of work: American West Bank.
My favorite part of the Yakima Valley is... The people.
When I was a child, I wanted to grow up to be... A veterinarian.
First job I ever had was... Milking cows and feeding calves.
If a movie was made of my life, the actor/actress I'd want to play me is... Christina Hendricks.
The best gift I ever received was... The ring my husband gave me on our 18th anniversary.
The best piece of advice I ever received was... Look for the best in everyone.
My favorite dessert is... Ice cream.
One of my most memorable moments, besides getting married or having children was... taking ocean cruises.
If I could witness any event past, present, or future, I would want to see... All my grandchildren grow up and start their lives.
I'd love to learn how to... Be patient.
The furthest I have been away from home is when I went to... Belize.
My favorite leisure activity or hobby is... Going for drives.
If I didn't have to worry about money, I'd spend my time... At spas, on vacation and with my family.
The one word that best describes me is... Friendly.
If I could change one thing about myself it would be... Not to have to worry about health issues.