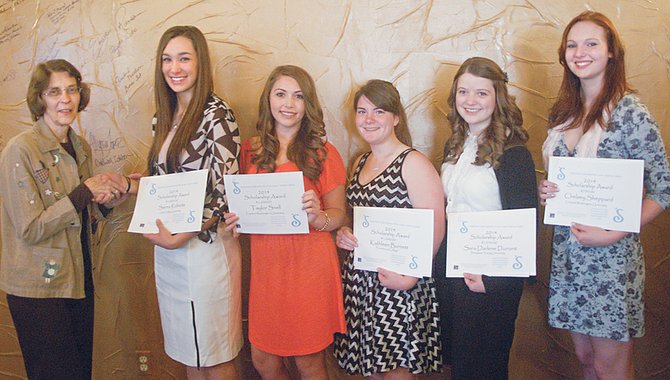 From dreams of pursuing careers in medicine and theater to plans to major in business administration, the five young women awarded Soroptimist International of Lower Yakima Valley scholarships are now a little more financially secure in their higher education goals.
"Each one of these young women are amazing examples of their community's youth," said Carol Bos, chairperson of the Soroptimist scholarship committee.
The scholarships were awarded to young women on the basis of community service, academics and overall citizenship, Bos explained.
The scholarship candidates were presented to the Soroptimist members last week at a breakfast meeting.
Receiving a $1,250 scholarship was Sara Durrant of Prosser High School, who intends on attending Brigham Young University. The daughter of Jill and Jim Durrant of Prosser, she plans to pursue a career in nursing.
Receiving a $1,000 scholarship each were Sierra Roberts of Prosser, Taylor Snell of Zillah and Kate Burnett of Prosser. Chelsey Sheppard of Harrah received a $750 scholarship.
Roberts, the daughter of Sheryl Aaron and Robert Barnhart of Prosser, will attend Utah Valley at Provost, Utah, pursing a degree in business administration.
Snell, the daughter of Char and Sean Snell of Zillah, has been accepted to Eastern Washington University, where she will pursue a degree in pharmacy.
Burnett, the daughter of Monica and Denny Burnett of Prosser, will attend Providence College in Rhode Island, pursuing a double major in medical and theater.
Sheppard, a senior at White Swan High School, is the daughter of Jodi and Tom Sheppard of Harrah. She will attend Central Washington University, where she was recently accepted into the acting program as part of her goal of earning a Bachelor's of Fine Arts.
"We are very happy to be able to provide these young women with the means to aid them in pursuing their academic goals," said Soroptimist President Gaye Vandermyn.
"We host several major events each year and work very hard to put our money back into our communities and help do what is 'best for women'," Vandermyn said.

She said funds for the scholarships comes from the annual spring flower sales and the annual Merry Making Craft Show held each December.