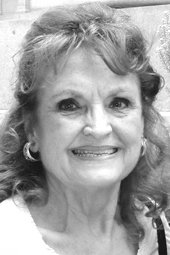 Lola (Riley) Scalley Yale, 78, of Tri-Cities died early on Sunday morning, May 3, 2014.
Lola was born in a farmhouse in Goldendale. Moving at the age two to spend the rest of her childhood at the family farm in Walla Walla.
She and six siblings helped on their family farm, raising hogs, turkeys, dairy cows, hay and alfalfa.
Lola played trumpet, sang in school, church choirs, took art classes and loved playing baseball.

Lola attended WSU, where she met her husband, Doug Scalley. They married in 1954 in Walla Walla.
Lola and Doug moved often for his job with U & I Sugar Company, living in Utah, Idaho and Washington, raising seven children along the way.

Lola and Doug became members of The Church of Jesus Christ of Latter-day Saints in 1963 and were sealed as a family in 1964 at the Idaho Falls Temple.
After 26 years of marriage, Lola's life was shattered when Doug died, leaving her a widow, at the age of 45.
Lola married Robert Yale in 1983 and began a new chapter in her life. When Bob took early retirement in 1989, they were able to find a mountain cabin along the Columbia Gorge. They enjoyed building and creating a retreat for family and friends to enjoy. They lived eight years there until health concerns caused them to return to the Tri-Cities.
Lola was known as a woman of many talents. While living in Moses Lake, she was given the recognition of "Woman of Achievement," which sums up her life.
Lola directed choirs throughout her life in communities, where she lived, a highlight was performances at the Spokane Expo.
For her 75th birthday wish, during practice sessions, she was able to sing with the Mormon Tabernacle Choir.
Lola also wrote and directed church and community productions including the LDS Kennewick Stake church history musical and the city of Kennewick's Centennial Musical performed in the Tri-Cities coliseum in 2004.
Lola's artwork could be found in store windows, elementary schools, and even the lion at Kennewick High School. Her portrait sketches also hang on the walls of family and friends homes.
Another love of Lola's was family history. She gathered family lines into her heart and created our strong family tree. Her research of stories and photos fill volumes.
Lola is survived by her husband of 31 years, Robert Lester Yale; her daughters, Sheri (Charles) Solomon of Kennewick, Karen (Ron) Maxfield of West Richland, Margie (James) Vaught of Chehalis, Laurie (Calvin) Cox of Albany and Patty (Brian) Bergerud of Bonney Lake; and by her sons, Paul (Kim) Scalley and David (Jennifer) Scalley, both of Bend; 17 grandchildren and 12 great-grandchildren.
Lola was preceded in death by her first husband, P. Douglas Scalley; her parents, Ralph and Mae Riley; her brother, Louis Riley.
Viewing will be held Friday, May 9, 2014, from 5 to 8 p.m. at Einan's at Sunset Gardens. Funeral services will be held Saturday, May 10, 2014, at 11 a.m. with viewing at 10 a.m. prior to service at The Church of Jesus Christ of Latter-day Saints Keene Building Chapel, 3701 Watkins Way, West Richland, with burial to follow at Resthaven Cemetery in Richland.
Express your thoughts and memories online Guest Book at www.einansfuneralhome.com.
Einan's Funeral Home in West Richland is in charge of arrangements.
More like this story