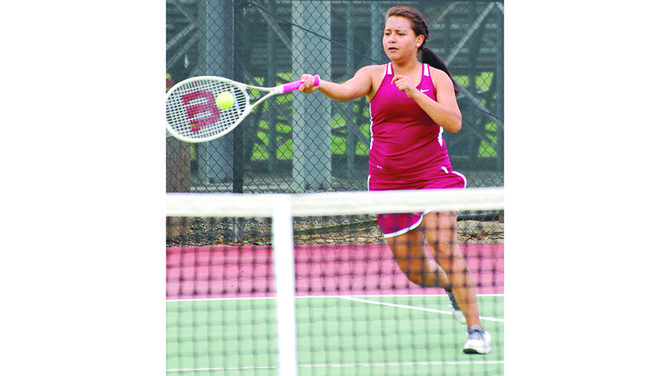 PREP TENNIS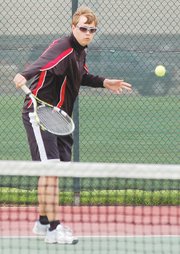 The 3A Sunnyside Grizzly tennis squads managed wins over the 2A Grandview Greyhounds last Friday during a brisk and windy afternoon on Sunnyside's home courts.
The Sunnyside boys team (2-6, 3-10) won 5-2 over Grandview, with victories in all the singles matches.
Sunnyside No. 1 singles player Alexis Osuna defeated Jose Ramos 7-6 (7-5), 6-2.
Nathan Laverman, Sunnyside's No. 2 singles player, demonstrated his icy control with a 6-1, 6-0 victory over Greyhound Victor Delgado.
Sunnyside's Zach Halma also showed a lot of control in his victory in the No. 3 singles match. He defeated Roger Escareno of Grandview in twin 6-1 sets.
Grizzly Trajen Frank earned a 6-3, 6-0 victory over Greyhound Anthony Gutierrez in the No. 4 singles match.
Also earning a win for the Grizzlies was the No. 2 doubles team of Rissto Barboza and Cody Parke. After Grandview's Joey Saenz and Alfonso Granados won the first set 6-2, the Sunnyside pair came back in the second set to earn a 7-5 victory. Sunnyside got the win, 6-3, in the final set to take the match.
"The boys played well today," said Grizzly Coach David Downing. "They seemed rested and in control of their matches for the most part."
Grandview had its share of success, winning the No. 1 and 3 doubles matches. Grandview Coach Ronda Penwell said changes in rules between leagues made for different line-ups, including two more singles matches than usual for the Greyhounds.
"Newly paired up Logan (Alvarez) and Devin (De Leon) played solidly for a win," said Penwell. The pair took on Michael Yan and Matthew Schaneman of Sunnyside in the No. 1 doubles match and earned a 6-3, 6-0 victory.
Also winning for Grandview was the No. 3 team of Jesus Gurrola and Isaiah Villareal. They defeated Sunnyside's Christian Murphy and Bryce Murphy, 6-2, 7-5.
"Isaiah was making his varsity debut," said Penwell.
The Sunnyside girls (0-8, 2-11) earned a 6-1 victory over Grandview, with the sole loss at the No. 1 singles spot.
Lady Greyhound Taylor Hamm took on Sunnyside's No. 1 singles player Jazmine Lopez and won 6-3, 6-1 after an intense match.
"We had a few girls missing, so many adjustments were made for the Lady 'Hounds," said Penwell. "Several girls stepped up to play a new position and their first varsity match."
Lady Grizzly Elexis Lepe defeated Lady Greyhound McKenzie Rios 6-2, 6-1 in the No. 2 singles match.
The No. 3 singles match was won by Sunnyside's Roxy Plancarte after a hard-fought three-set match against Grandview's Diana Godinez.
The No. 4 singles match was won by Lady Grizzly Carla Rodriguez, 6-1, 6-1, over Grandview's Biviana Rivera.
In doubles play, the No. 1 Sunnyside team of Mattie Meyers and Ericka Valdez defeated Lady 'Hounds Lecia Owens and Monse Oropeza in two sets, 6-4, 6-3.
Lady Grizzlies Mirella Ramirez and Stephanie Herrera had a solid 6-0, 6-3 victory in the No. 2 doubles spot against Grandview's Juana Razo and Perla Razo.
The No. 3 doubles match saw Sunnyside's Jessica Garnica and Angelica Ceja defeating Grandview's Jozelle Prieto and Alexandra Gonzalez in two sets, 6-1, 6-2.
"It is always interesting to play against Sunnyside," said Penwell. "Since it is non-league and a different line-up, we try to have fun with it and encourage the players to go out and have fun."
Sunnyside also had a good time, using the victory to bolster players' confidence as the team heads towards Districts.
"Overall, I am pleased with the performance of the Grizzly tennis players," said Downing. "They showed what they are capable of in the way they played. A tennis coach cannot ask for more."
Sunnyside is hosting Moses Lake tomorrow (Tuesday) for the final match of the regular season. Grandview will travel to Ephrata tomorrow then host Wapato on Thursday.