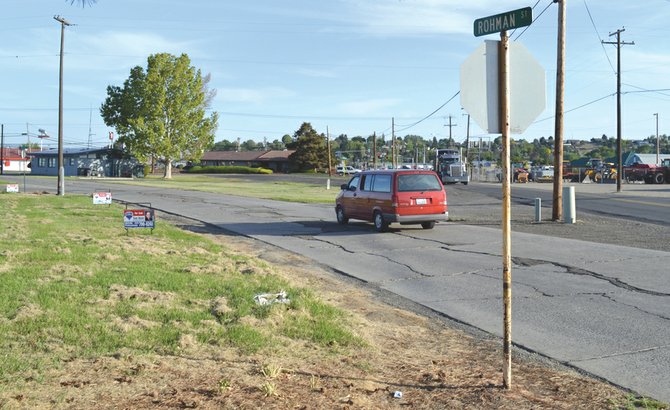 Sunnyside is about to have one less intersection, as this week the city is moving forward with plans to close the crossroads at Rohman Street and Scoon Road.
During a Sunnyside City Council public works subcommittee meeting last night (Monday), Public Works Supervisor Shane Fisher said tomorrow, Wednesday, the city will formally post the intersection's closure with barricades and lights to re-direct motorists.
The closure is due to safety precautions, Fisher says, because motorists speed on Rohman as they access Scoon Road.
There are no homes directly facing Rohman, which connects between North Avenue and Scoon Road, but there is a business, Paleteria La Nortena.
Fisher says the plan is to eventually extend Woods Road.
In other updates provided to the subcommittee last night, work continues on the downtown revitalization project. Fisher noted in his update to the subcommittee that phase one will be complete by May 16. The overall project is expected to complete construction on Nov. 12.
He also noted the city has grant funds in hand to conduct engineering studies on improvements for Sixth Street and sidewalk upgrades for 16th Street. Taking a cue from Grandview's street improvements, Fisher says the idea is to have projects "shovel ready" so work can start right away once grant funds for construction are received.
Speaking of construction, plans are underway to start work on improvements for Yakima Valley Highway on Tuesday, May 27. The contract calls for 90 working days to complete the project.
The subcommittee also learned it may be a month or two when the city hears back from a consultant the Sunnyside School District has hired to design improvements on the north side of East Edison Avenue from Yakima Valley Highway to Barnard Boulevard. The district is making the improvements, which will include new sidewalk, pavement and drainage, due to the new transportation building.
The subcommittee is next scheduled to meet on Monday, June 9, at 5:30 p.m. at the Law and Justice Center.